This Homemade Brown Sugar Oatmeal gives you a dose of wholesome comfort food in a quick and easy breakfast! Inspired by the famous Quaker Oats packaged, flavor, our version is made with simple, delicious flavors without all the sugar and processed ingredients.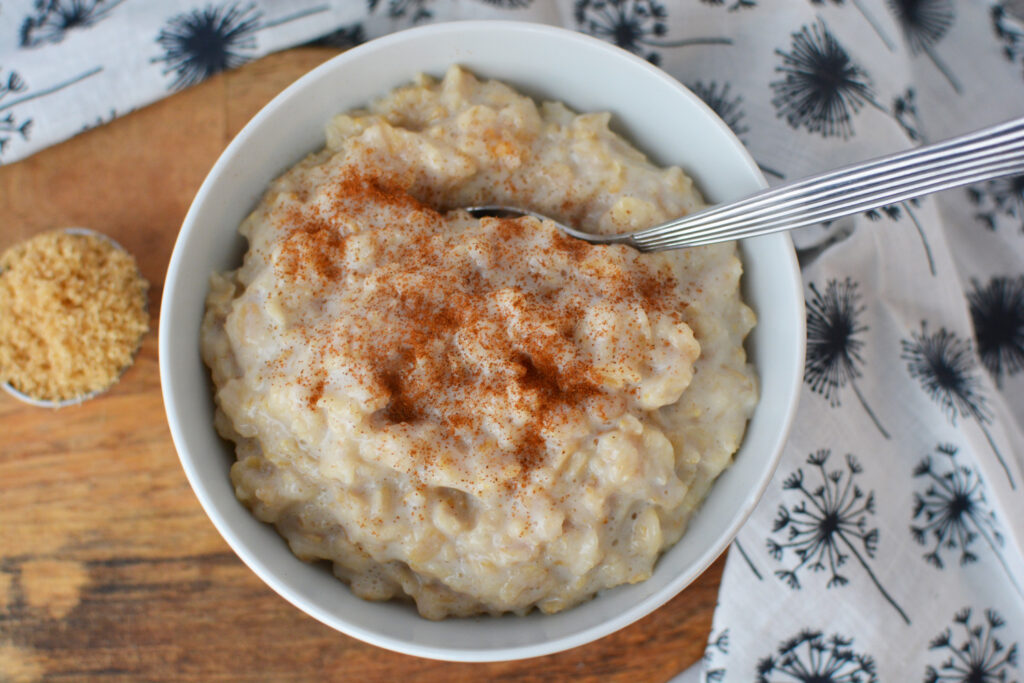 Why You'll Love Brown Sugar Oatmeal
WHOLESOME – Instant Maple & Brown Sugar Oatmeal is so easy and quick is was to make! But, honestly, they fill their packets with some processed ingredients and tons of sugar. When we realized we could make our own homemade Brown Sugar Oatmeal, it was a game changer! Making your own oatmeal is a delicious idea! In fact, a couple months ago we shared this recipe for Banana Baked Oatmeal that we absolutely LOVE! But, what if you are looking for something a little quicker? Then this Brown Sugar Oatmeal recipe is just what you needed! You'll love this recipe because you can get all that classic flavor while knowing EXACTLY what you are putting into your (or your children's) bodies.
TOTAL COMFORT FOOD – And this this recipe is all about comfort food. It will be sure to warm you up on even the coldest morning.
EASY TO MAKE AHEAD OF TIME AND REHEAT – This Homemade Brown Sugar Oatmeal is also a great thing to make on Sunday afternoons, it keeps great in your refrigerator and you can just take it out on busy weekday mornings for an even quicker breakfast treat!
EASY TO ADAPT – And it's tons of fun to alter, with lots of opportunities to add some more ingredients to make it your own. Read on below for some inspiration!
Brown Sugar Oatmeal
Only 5 ingredients here! And I'd be willing to bet you've got most (if not all) of these in your pantry right now! In just about 10 minutes, you can turn this into a delicious, kid-friendly breakfast recipe! For step-by-step instructions, check out the printable recipe card below. But here is what you'll need to get started.
MILK – Using either 2% or Whole Milk will work. Can you make Oatmeal with half and half? Yep, you sure can. I'd just add a little water to it. Generally, you should combine 3/4 cup of half and half with 1/4 cup of water for every cup of milk you are substituting. You can also make oatmeal with almond milk, which would make this a dairy-free recipe and it also adds a nice flavor!
QUICK COOKING OATS – We like to use quick cooking oats. You can use old fashioned oats for this recipe, but you'll need to adjust the cooking time. It usually takes about 4-5 minutes to fully cook old fashioned oats. You can also use Instant Oatmeal if you want, but we'd suggest sticking with at least the quick cooking oats as they simply have a better texture and don't take too much longer.
BROWN SUGAR – We use 2 tablespoons of brown sugar. But the great thing about this recipe is that you can adjust the amount of sugar you want to put into it.
SALT – We put just a pinch of salt into this oatmeal recipe. We find it really balances out the sweetness of the brown sugar. This is optional. You don't have to add it if you don't want to.
GROUND CINNAMON – We like to serve our oatmeal with a little ground cinnamon as a garnish. For some other ideas for toppings, read on below!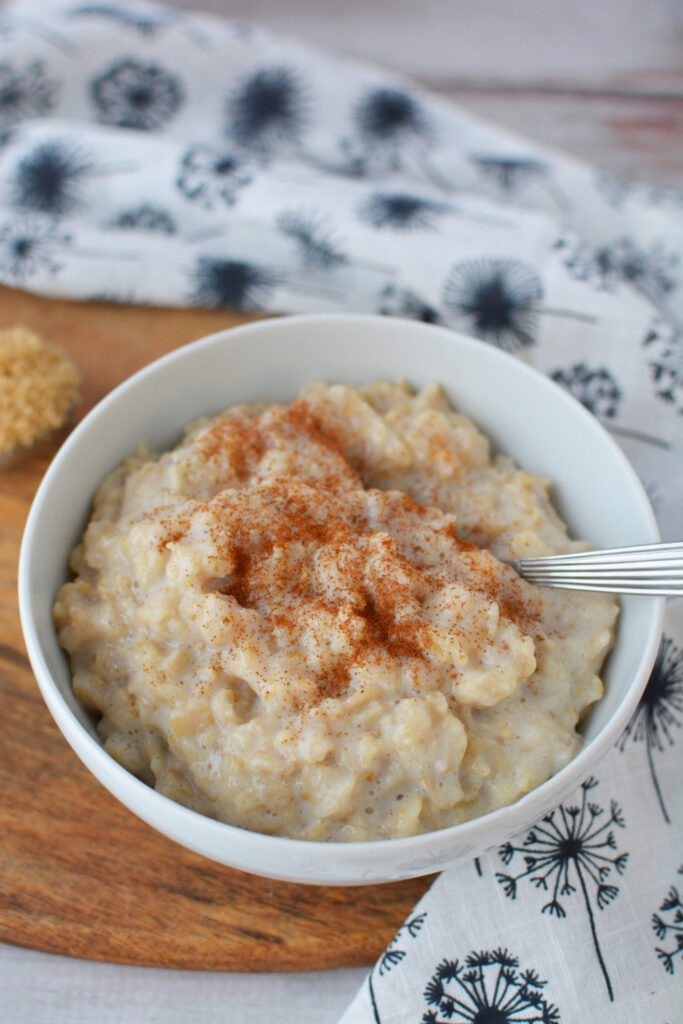 Storage and Freezing
As mentioned above, you can make a large batch of Brown Sugar Oatmeal and then keep it stored in an airtight container in your refrigerator. It heats up great in the microwave in about 30-60 seconds. We advise separating the oatmeal into individual portions so you can just take out what you need.
Can you freeze oatmeal? Yep, it actually freezes very well. I've heard of some people putting their oatmeal into muffin cups and then freezing them. Once they are frozen, pop them out of the cup and put them into a freezer bag. Once again, you can just take out what you need for a quick breakfast! Oatmeal should stay good in your freezer for up to 4 months.
How To Sweeten Oatmeal Without Brown Sugar
While Oatmeal can be a very nutritional breakfast to start out your day. We all know that adding sugar, in this case brown sugar, can work against you if you are trying to maintain a healthy diet. The good news is that there are other ways to sweeten your oatmeal without using sugar!
BANANAS – The most healthy way to sweeten your oatmeal. Get some very ripe bananas and mash them up into your oatmeal. This will taste DIVINE with the cinnamon!
HONEY – Drizzle some honey on top of your oatmeal for a natural sweetener.
MAPLE SYRUP – Of course, a lot of people add Maple Syrup along WITH the brown sugar to recreate the famous Quaker Oats flavor. But you can just use either/or if you'd like.
VANILLA EXTRACT – This doesn't necessarily "sweeten" your oatmeal like the ingredient above, but it a small splash of vanilla extra can give it a nice extra boost of flavor.
Other Toppings To Put On Your Oatmeal
If you have any other suggestions for a yummy topping on your oatmeal, let us know in the comments below. But here are some of our ideas!
COCONUT FLAKES
MINI CHOCOLATE CHIPS
NUTS – PECANS, WALNUTS OR ALMONDS
FRESH BERRIES – Strawberries, blueberries, cranberries, raspberries or blackberries.
DRIED FRUIT/RAISINS
PEANUT BUTTER
We hope you enjoy this Homemade Brown Sugar Oatmeal Recipe. Please let us know how it turned out for you in the comments section. Happy Eating!
LOOKING FOR MORE OATMEAL RECIPES? CHECK OUT: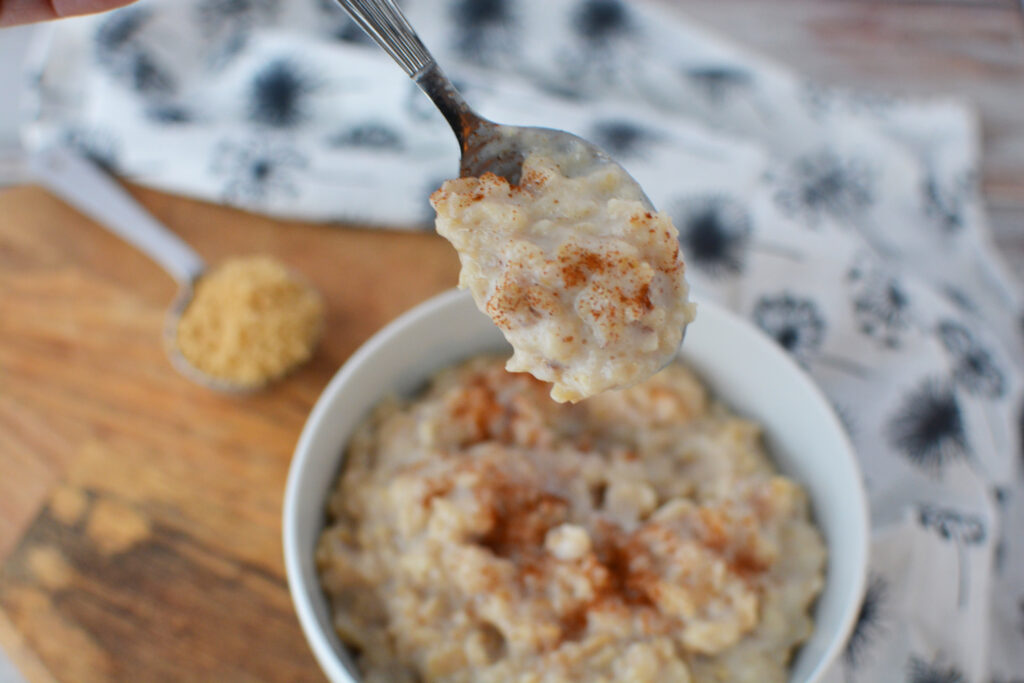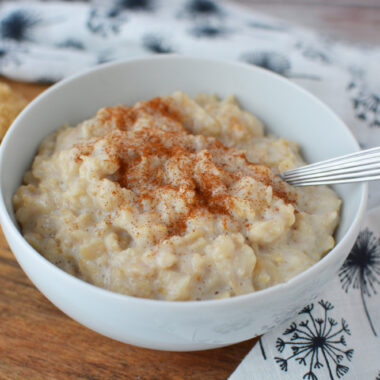 Rate this Recipe
Homemade Brown Sugar Oatmeal
This Homemade Brown Sugar Oatmeal gives you a dose of wholesome comfort food in a quick and easy breakfast! Inspired by the famous Quaker Oats packaged, flavor, our version is made with simple, delicious flavors without all the sugar and processed ingredients. 
Ingredients
2

cups

milk

1

cup

quick cooking oats

2

tablespoons

brown sugar

dash of salt

ground cinnamon for serving
Instructions
milk to a saucepan and bring to a boil over medium heat.

Add oats.

Add brown sugar and salt. Stir for 1-2 minutes or until mixture begins to thicken.

Remove from heat and let stand for 3-5 minutes.

Oatmeal will continue to thicken as it stands.

Serve topped with ground cinnamon.
Nutrition
Love this recipe?
Follow @bubbapie for even more delicious recipes!!