This classic Southern Recipe for Smothered Potatoes and Sausage is comfort food at it's best. Crispy Fried Potato Slices are smothered with onions, red peppers and smoked sausage. This is a great side dish, main dish or even breakfast recipe! And it's gluten free!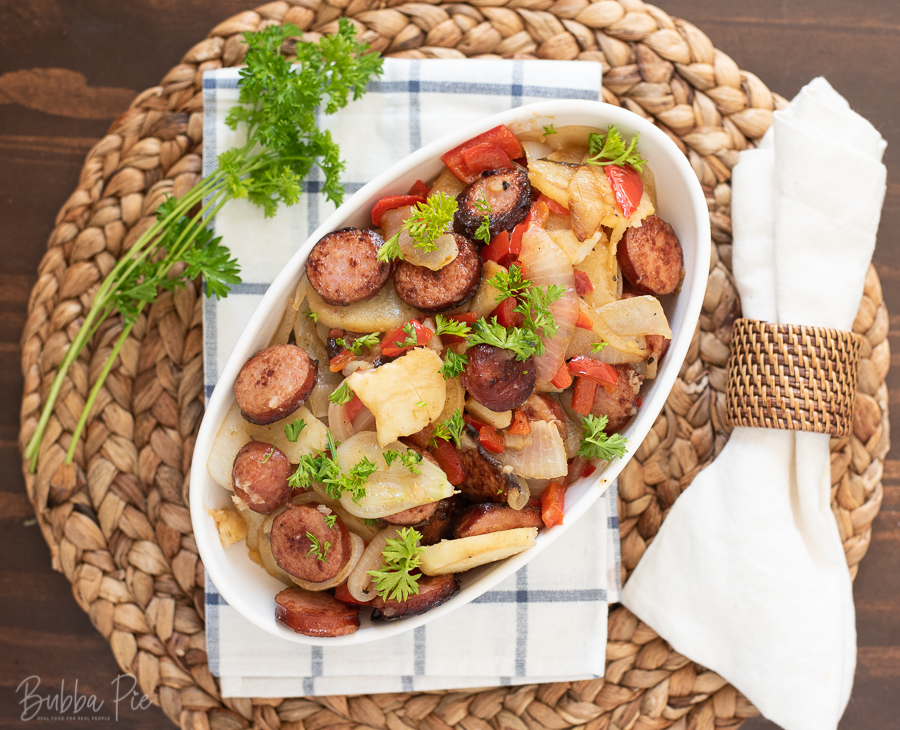 Classic Potato Recipes
When I think about Comfort Food, I think about recipes that are simple, easy, straightforward and that don't have a ton of ingredients. And that is definitely what this Smothered Potatoes with Sausage Recipe is.
We have a ton of potato recipes on this website. From Cheesy Potatoes Au Gratin to Garlic and Bacon Smashed Potatoes, I would consider just about all of it Comfort Food. But this recipe for Smothered Potatoes with Sausage may be one of the most delicious potato recipes we've made yet on this website!
What Are Smothered Potatoes?
Smothered Potatoes are a classic Southern Dish that usually combines some form of Potatoes with Onions. The onions are cooked thoroughly enough that they become super soft and "smother" the potatoes. Often times, other ingredients may be added according to the cook's taste. Like all great recipes, you can't really find a "common" way to make these. It seems like everyone has their own method. That's the fun thing about cooking!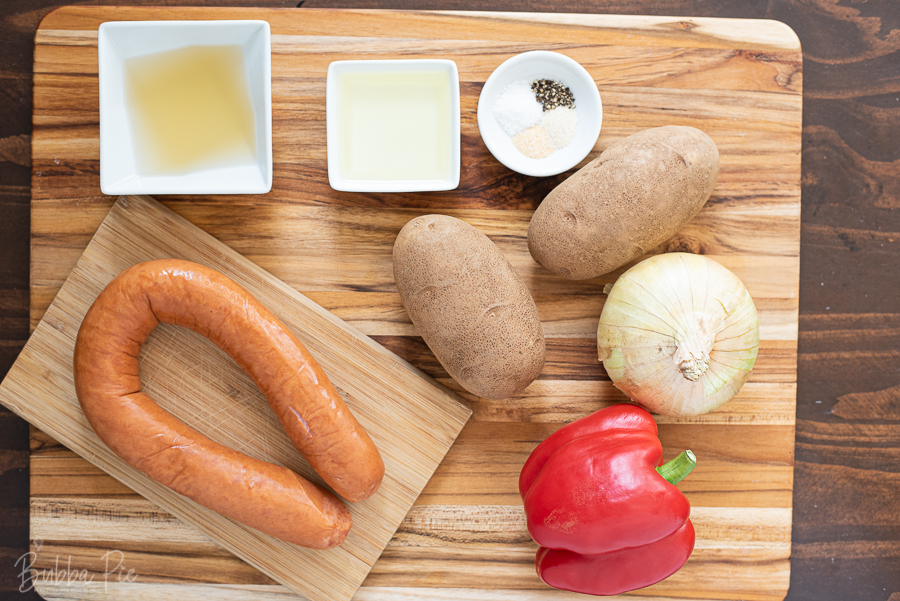 How To Make Smothered Potatoes with Sausage
With just a few ingredients and a couple minutes of prep work, you can have this delicious dish ready to eat in no time. Ready to get started? Here is what you will need:
POTATOES – We used Russet Potatoes. But you can use any potato you'd like. Such as Yukon Gold, White or Red Potatoes.
ONION – We suggest using a Yellow Onion because it is slightly milder than a white onion.
VEGETABLE OIL – You can use whatever oil you'd like in this dish.
RED BELL PEPPER – We love the color and the flavor of Red Bell Peppers. But you can use Yellow, Orange or Green Bell Peppers.
SMOKED SAUSAGE – One link of smoked sausage. You'll be cooking the sliced sausage first. Make sure you are using a large enough frying pan for when you add all of the ingredients.
CHICKEN BROTH – Can substitute Vegetable Broth or Beef Broth if needed
SEASONINGS – We used a combination of Garlic Powder, Onion Powder, Salt and Pepper. But add whatever seasonings you think would be delicious too! It's pretty hard to mess this dish up! Paprika, Rosemary, Thyme, Parsley… anything!
Storage and Freezing
Store leftovers in an airtight tupperware or container in your fridge. You can reheat this in the microwave. They should be good for about 4-5 days.
I haven't tried to freeze this recipe, but honestly, I wouldn't do it. Those onions and peppers are cooked so soft, that I just don't know how well they would reheat. This is a dish best served fresh and hot!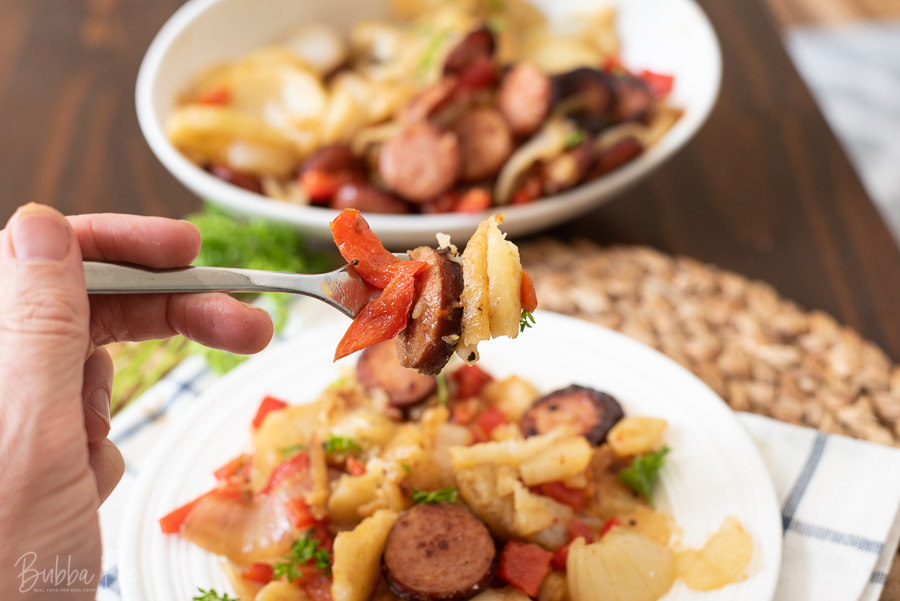 What Are The Best Potatoes To Use For Smothered Potatoes?
I used plain old Russet Potatoes for this recipe. But you can really use any potato you want, from Yukon Gold Potatoes to White or Red Potatoes. This really is one of those recipes that is hard to mess up.
Other Notes, Tips and Variations
MAKE IT SPICY?- If you want to add a little heat, go for it! You could do this by adding some cayenne pepper or chili powder as desired into the seasoning mix. Or, better yet, throw in some spicy sausage or even chorizo instead of the smoked sausage.
POTATO CARE- If you are slicing your potatoes ahead of time, you may want to keep them in a pot of cold water to avoid discoloring. Also, pat your potatoes dry before frying them.
ADD ONS- There would be nothing wrong with adding some shredded cheddar cheese at the end of cooking this recipe. Let it melt in there and then serve it. Or, a dollop of sour cream once it has been served would be delicious too!
ADD VEGETABLES – Make this a little more hearty by adding some more vegetables. Zucchini, Carrots, Celery or Diced Tomatoes are some suggestions. I'd just wait to add the tomatoes until towards the end of cooking.
SUBSTITUTE PROTEIN– If sausage isn't your thing, this recipe does just fine without it. It will be just more of a side dish. Or you could substitute for another protein like chicken or beef.
Tools To Help With This Recipe
I hope you enjoy this recipe for Smothered Potatoes with Sausage. I love this because it can fit in just about any meal, including a tasty breakfast. If you make it, I'd love to hear how it turned out in the comments. Enjoy!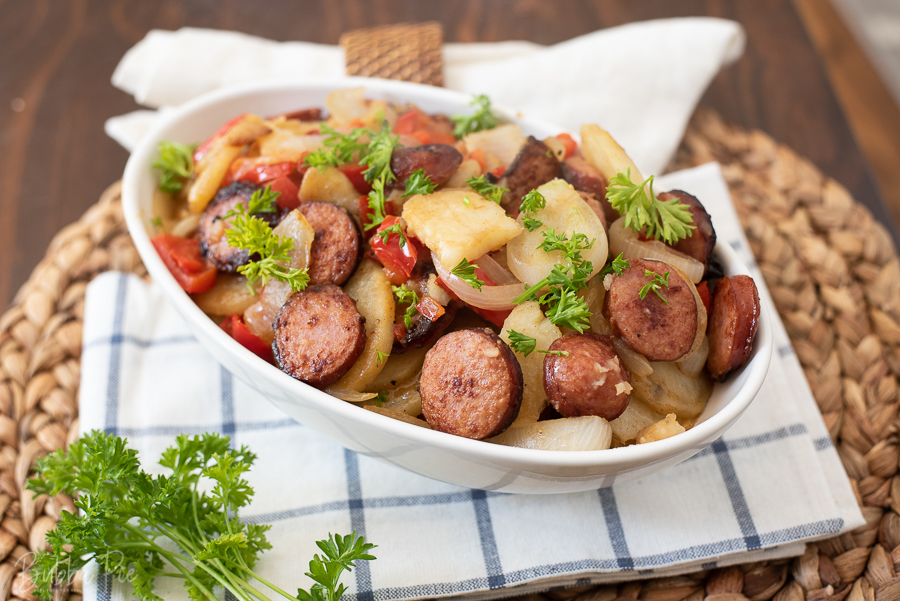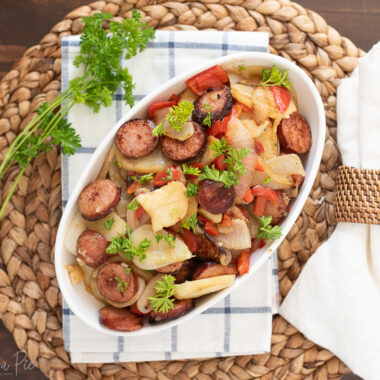 Rate this Recipe
Smothered Potatoes and Sausage
This classic Southern Recipe for Smothered Potatoes and Sausage is comfort food at it's best. Crispy Fried Potato Slices are smothered with onions, red peppers and smoked sausage. This is a great side dish, breakfast recipe or meal all on it's own!
Ingredients
3

medium to large Russet Potatoes

1

Yellow Onion

1/4

Cup

Vegetable Oil

1

Red Bell Pepper

1

Smoked Sausage Link

1/2

Cup

Chicken Broth

1/4

tsp

Garlic Powder

1/4

tsp

Onion Powder

1/2

tsp

Salt

1/2

tsp

Pepper
Instructions
Heat up vegetable oil in a large skillet.

Slice sausage into to small chunks and full cook on skillet.

When sausage is done cooking, set aside. Slice up potatoes into even slices and put in leftover oil in skillet.

Cook until Potatoes start to become tender inside and brown on the outside.

Slice up Red Pepper and Onion and throw in with the Potatoes. Cover and let cook for about 10 more minutes, stirring occasionally.

Add Chicken Stock, seasonings and sausage. Uncover and let cook for another 5 minutes or so.
Love this recipe?
Follow @bubbapie for even more delicious recipes!!