This Chicken Potato Casserole is loaded with tons of hearty flavor for an easy family dinner. Tender chicken is layered on top of roasted potatoes in a creamy, cheesy sauce. Topped with more cheese and bacon, it's total comfort food for the whole family!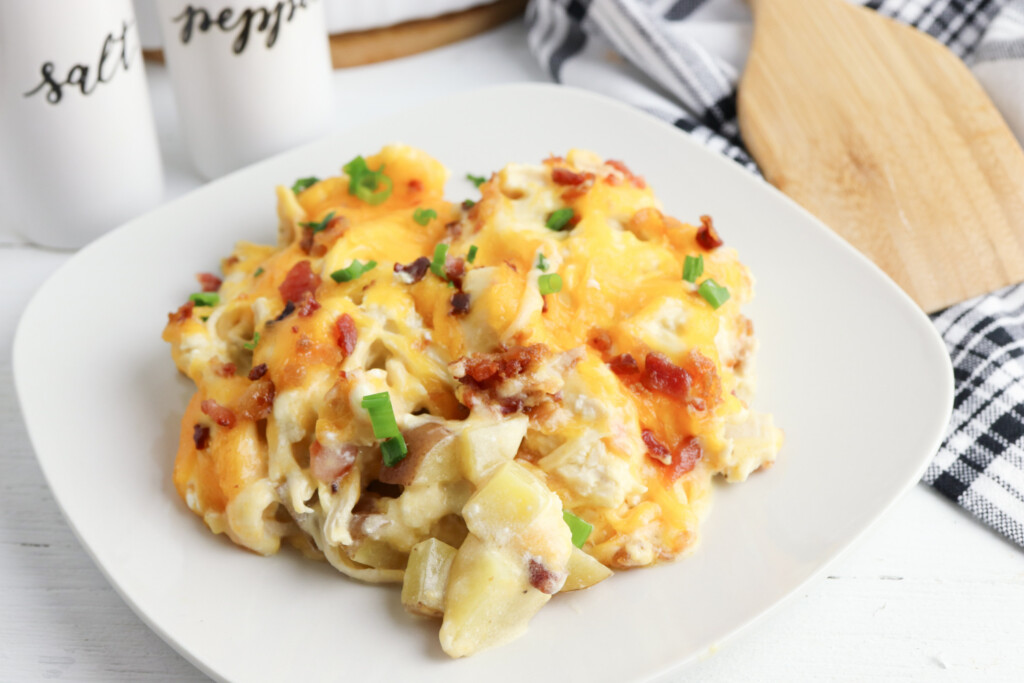 Why You Will Love Chicken and Potato Casserole
EASY INGREDIENTS – Full of common pantry staples, you probably already have most, if not all of these ingredients in your kitchen!
HEARTY – It says this recipe serves 5. But with the hearty potatoes, the rich and creamy sauce and the chicken and bacon, it's sure to satisfy a hungry family.
VERSATILE – This is a VERY forgiving recipe that allows you to add or subtract ingredients as needed. See below for some inspiration!
DELICIOUS – Each forkful of this loaded chicken casserole is full of hearty, wholesome flavor! The creamy cheese sauce really makes this dish stand out! You'll seriously want to start putting it in everything.
Chicken and Potato Casserole
Ready to make this easy casserole recipe? For step-by-step instructions, check out the printable recipe card below. But here is what you'll need to get started.
POTATOES – We used baby potatoes, diced. Any type of baby potato will work: red, gold or a medley. If needed you can also just dice up some russet potatoes. You could even try using Sweet Potatoes!
SMALL ONION – Finely chopped. We used yellow onion because of it's sweeter, milder flavor. But you can use a red onion if you'd like.
GARLIC – Minced. We used two cloves of fresh garlic. But you can use the stuff that comes in a jar if needed.
CREAM OF CHICKEN SOUP – One can. You can use Healthy Request Cream of Chicken Soup if you'd like. You can also substitute for just about any "Cream of" soup you'd like.
SOUR CREAM – If you wanted to lighten it up a bit, you can use light sour cream.
CHEESE – We like using Cheddar Jack Cheese, but you can substitute for any cheese that sounds good. Cheddar Cheese would work great.
MILK – 2% Milk. Substitute low fat milk for a lighter version. Or use half and half for a rich, creamier sauce.
SHREDDED CHICKEN – You'll need cooked, shredded chicken. See below for more info on this.
BACON – Nice, crispy bacon is best in this recipe.
GARNISH – Chopped green onions or chives.
How To Get My Chicken To Shred
There are a number of ways to cook chicken to get it to easily shred.
SAUTE AND POACH – This is the most best way to cook shredded chicken. Just put your boneless skinless chicken breasts at the bottom of a large skillet with little bit of olive oil. Cook for 3-5 minutes on each side, until both sides are brown. Once you've done that, add 1/2 – 3/4 inches of water to the pan and continue to cook until the center is 165 degrees.
POACH ONLY – Put your chicken breasts into a pot of boiling water and cook until internal temperature is 165 degrees.
INSTANT POT – If you have a pressure cooker, this is a super easy and quick way to cook chicken that is perfect for shredding!
BUY ROTISSERIE CHICKEN – The easiest thing to do is just buy a cooked rotisserie chicken at the grocery store. And tear off the meat to use in this recipe.
Once you've cooked your chicken, you can shred it! The best way is to actually use a stand mixer with a paddle attachment. Just put your cooked chicken in there and let the mixer quickly do all the work.
If you don't have a stand mixer (or don't want the extra dishes), you can just use two forks and a little muscle!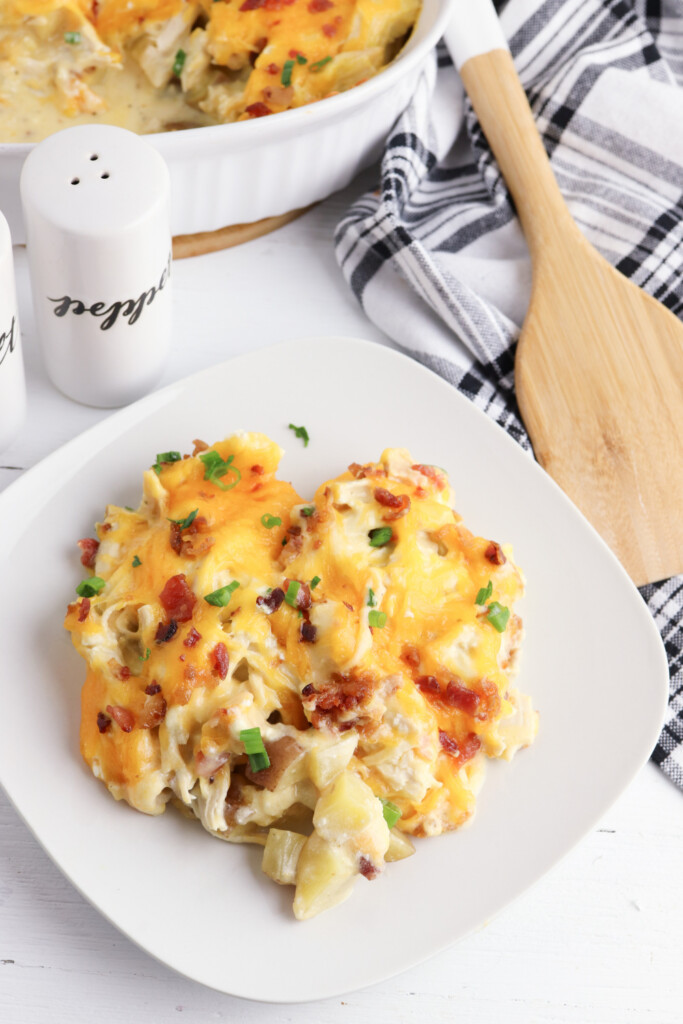 What To Serve With Chicken and Potato Casserole
This recipe really has a full plate of food in each bite. That being said, serving it with a side of vegetables would work. Broccoli, Carrots or Brussels Sprouts would be perfect.
Can I Substitute For The Chicken Breasts?
If you prefer, boneless skinless chicken thighs would work great in this recipe. Or, if you have some leftover cooked turkey meat hanging around, this is the perfect dish to use it in!
Can You Cook Potatoes and Raw Chicken Together?
So, why are we putting cooked chicken into this casserole? You actually CAN just put raw chicken in this casserole dish with the potatoes and it would cook safely. All the bacteria that may exist in raw chicken will be cooked away once it reaches 165 degrees. We cook our chicken first simply so that we can shred it (it IS really hard, if not impossible, to shred raw chicken). We think this dish tastes better with shredded chicken.
Storage, Leftovers and Freezing
Store leftovers in your refrigerator in an airtight container. This dish reheats fine in the microwave.
You can freeze Chicken and Potato Casserole. Just allow to fully cool and put in a freezer safe container or freezer bag. It will be good in your freezer for about 4 months. Allow to thaw in the refrigerator.
Other Notes, Tips and FAQs
WHAT OTHER SEASONINGS CAN I ADD TO THE CHICKEN? – Make sure you are generously seasoning with salt and black pepper. Otherwise, you can sprinkle on some paprika or garlic powder. You could also try using some Italian Seasoning.
RANCH SEASONING – Many versions of this recipe use Ranch Seasoning Mix. If you'd like, just sprinkle it on top of the potatoes before you put the chicken on.
HELP, MY CHEESE IS BURNING BEFORE THE CASSEROLE IS DONE? – No problem. Just cover the top of the casserole with aluminum foil until the cooking has completed.
We hope you enjoy this Chicken and Potato Casserole Recipe. Please let us know how it worked out for you in the comments.
LOOKING FOR MORE CHICKEN CASSEROLES? CHECK OUT: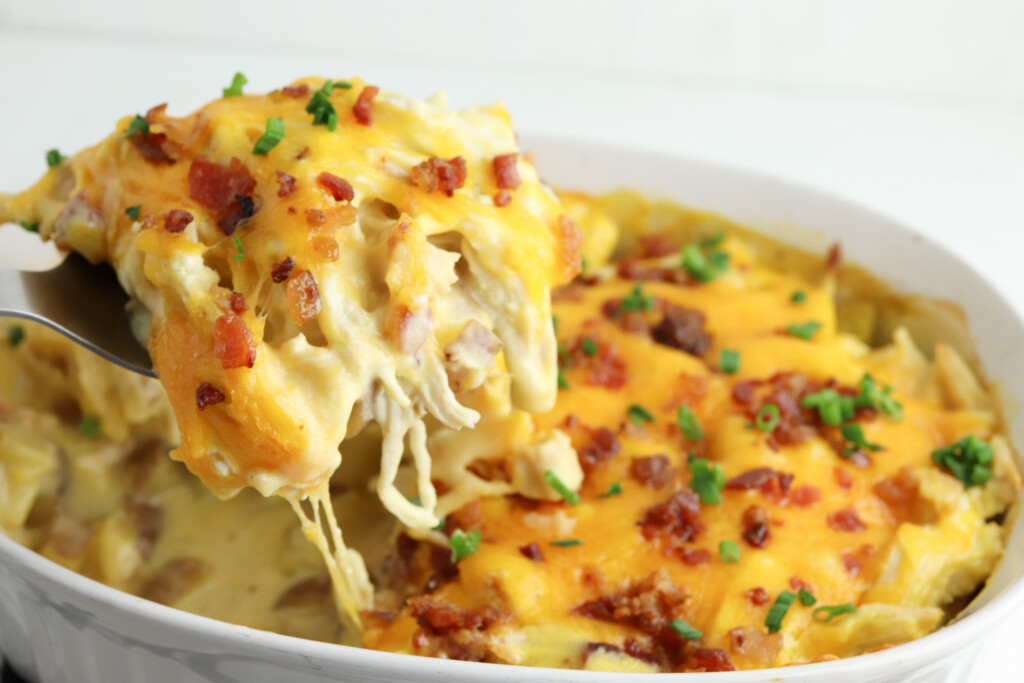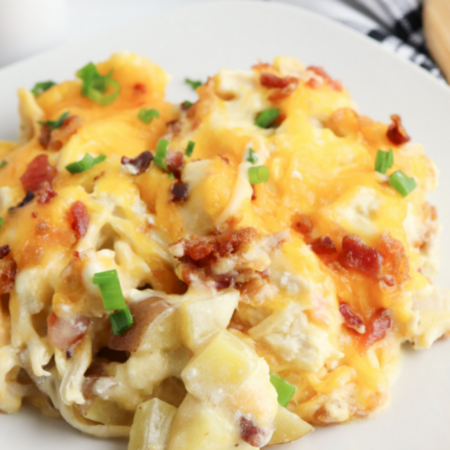 Rate this Recipe
Chicken Potato Casserole
This Chicken Potato Casserole is loaded with tons of hearty flavor for an easy family dinner. Tender chicken is layered on top of roasted potatoes in a creamy, cheesy sauce. Topped with more cheese and bacon, it's total comfort food for the whole family!
Ingredients
1 1/2

pounds

baby potatoes

diced

1

small onion

finely chopped

2

cloves

garlic

minced

1

can cream of chicken soup

1

cup

sour cream

2

cups

shredded cheddar jack cheese

divided

1/2

cup

milk

3

cups

shredded cooked chicken

4

slices

bacon

cooked and crumbled

2

tablespoons

chopped fresh chives or thinly sliced green onion
Instructions
Preheat the oven to 400 degrees and grease a 9x13 baking dish with nonstick cooking spray.

Spread the potatoes, garlic and onions evenly in the baking dish and season with salt and pepper.

Top with the shredded chicken.

Stir together the soup, sour cream, one cup of shredded cheese, and milk until well combined.

Pour over the top of the potatoes and chicken.

Cover and cook for 40 minutes, then remove cover and top with remaining cheese and bacon. Cook an additional 10 to 15 minutes, until potatoes are tender and cheese is melted.

Garnish with green onion before serving.
Nutrition
Love this recipe?
Follow @bubbapie for even more delicious recipes!!