This Blueberry Yum Yum is a classic Southern No Bake Dessert. Layers of creamy, whipped filling sandwich blueberry pie filling all on a graham cracker crust!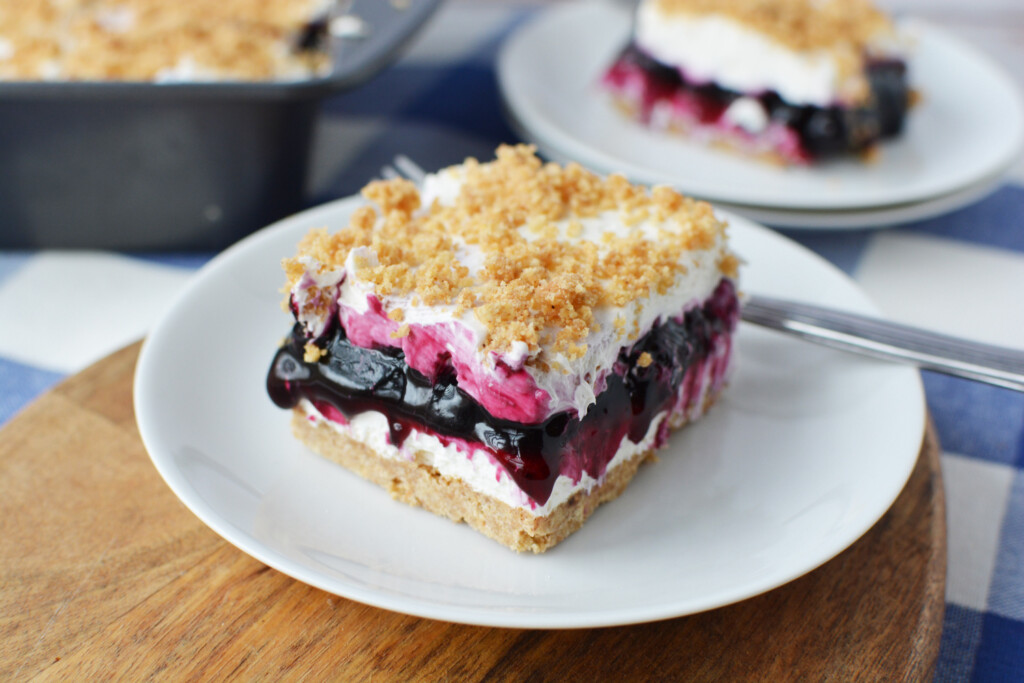 Why You Will Love Blueberry Yum Yum
EASY – This layered dessert on takes a handful of simple, common ingredients and a couple of minutes to prepare. It also uses canned pie filling for the ultimate shortcut! And there is no baking! So, there is no need to even turn on your oven!
GREAT FOR ANY OCCASION! – This dessert is great for at potluck, a pitch in, a cookout or any festive occasion you'd want to share a sweet treat!
VERSATILE – While we love blueberry in this dessert, you can really use any fruit filling you'd like: strawberry, cherry, pineapple or peaches would all work great!
What Is A Blueberry Yum Yum
No one really knows where this name came from. Sometimes you'll hear this called Blueberry Lasagna, Blueberry Lush or Blueberry Delish. It's one of those things that it just depends who your grandma is and what she called it!
But it did seem to originate in the South. And, despite a couple of slight variations, it is usually layers of cream cheese and whipped cream, pie filling and a graham cracker crust that has been chilled. Sometimes you'll see the graham cracker crust baked (or use a store bought crust) and sometimes you'll see a no bake version of the crust.
And it's always a really easy recipe to make! For step-by-step instructions, check out the printable recipe card below. But here is what you'll need to get started:
GRAHAM CRACKERS – Crushed. Any brand will do. Usually one sleeve or about 9 crackers will be enough.
GROUND CINNAMON – Mix in with the crust for some added flavor.

BUTTER – Unsalted and melted. Combine graham cracker crumbs and cinnamon with the butter to make your crust.

CREAM CHEESE – Make sure your cream cheese is softened. You cannot make this recipe if it isn't.

POWDERED SUGAR – Also called confectioner's sugar.
WHIPPED TOPPING – Any store bought brand, like Cool Whip will work. Just make sure you thaw it overnight in the refrigerator, and not on the counter at room temperature. You can use homemade whipped cream if you would rather.
BLUEBERRY PIE FILLING – Any brand will work. You can also make your own pie filling if you have a recipe that you prefer.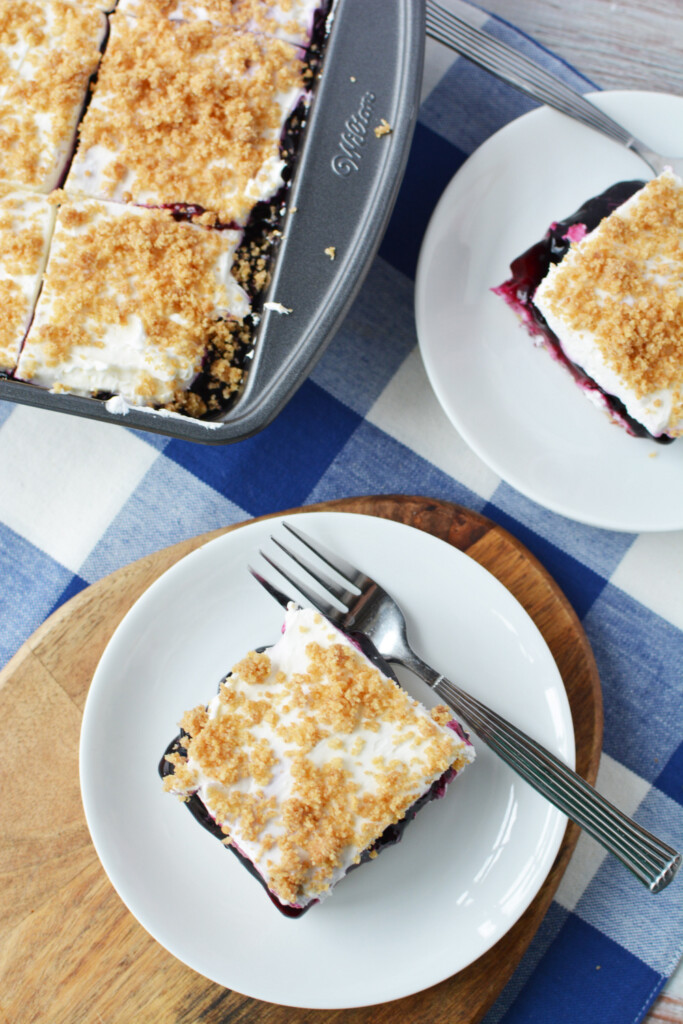 Storage and Freezing
Store leftovers in an airtight container in your refrigerator. It should be good in your fridge for about 5 days. You can freeze Blueberry Yum Yum. You may want to flash freeze it a bit before you wrap it in freezer wrap or parchment paper. You can also freeze right in the baking dish if you'd like. It should be good in your freezer for 3-4 months. Thaw out overnight in the fridge. Or, some people like to eat this as a frozen treat!
Notes, Tips and FAQs
CAN BLUEBERRY YUM YUM BE GLUTEN FREE? – Not as written. But you can substitute gluten-free graham crackers to make this dessert gluten-free.
DO I HAVE TO USE GRAHAM CRACKERS FOR THE CRUST? – Nope. Some people use shortbread cookies (Pepperidge Farm has some good ones) or even lemon cookies.
DOES IT NEED TO SIT OVERNIGHT BEFORE EATING? – It should set in your refrigerator for at least 4 hours. But it is best if you let it set overnight.
CAN YOU USE FRESH BLUEBERRIES? – Yes, but it will change the texture and taste of this dessert.
WHAT IS THE BEST WAY TO CRUSH COOKIES? – You can certainly use your food processor to crush the cookies, but those can be time consuming to clean. We like to just put them in a ziplock baggie and crush them with a rolling pin.
BE CAREFUL SPREADING THE CREAM CHEESE LAYER – It can be a little tricky spreading all the creamy layer and the blueberry layer onto each other while keeping them separate. Just take your time and go slow.
TOP WITH NUTS – Some people like to sprinkle some crushed pecans or walnuts on top!
We hope you enjoy this Blueberry Yum Yum Recipe. We'd love to hear how it turns out in the comment section! Happy eating!
LOOKING FOR MORE NO BAKE DESSERTS? CHECK OUT: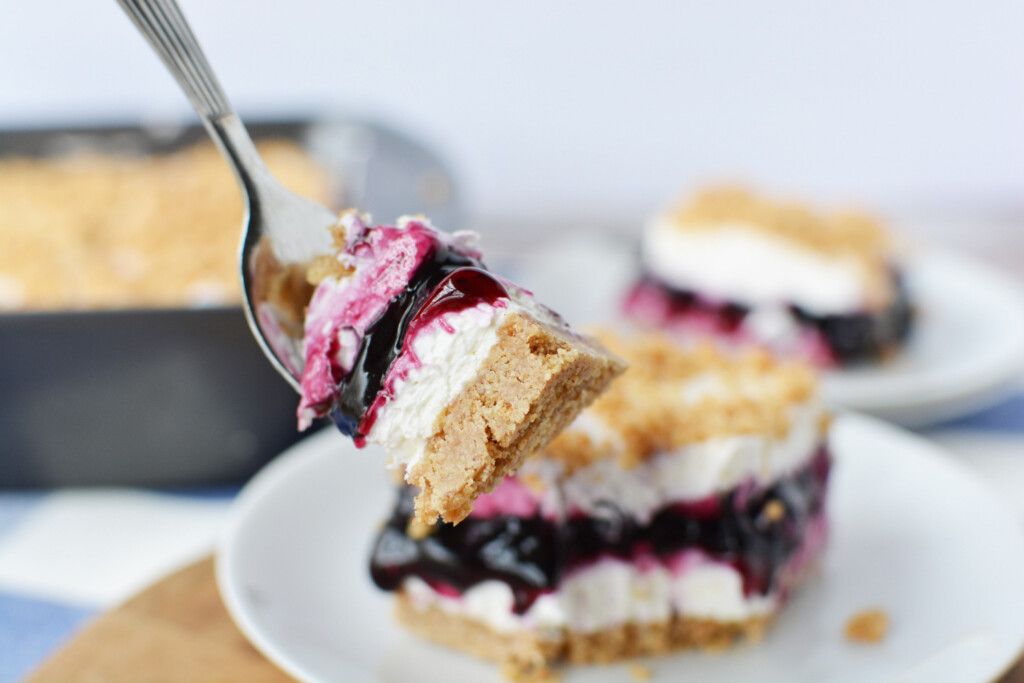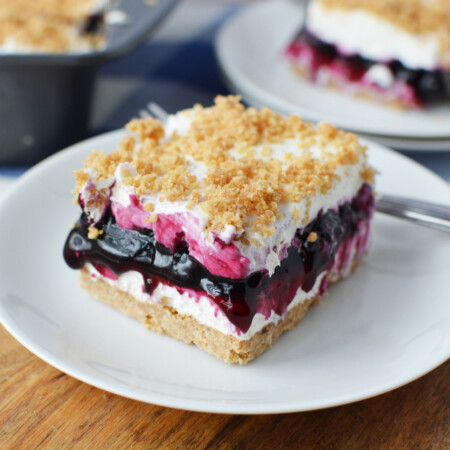 Rate this Recipe
Blueberry Yum Yum
This Blueberry Yum Yum is a classic Southern No Bake Dessert. Layers of creamy, whipped filling sandwich blueberry pie filling all on a graham cracker crust!
Ingredients
9

whole graham crackers

1 sleeve

1/2

teaspoon

ground cinnamon

6

tablespoons

butter

melted

1

brick

8 oz, cream cheese, softened

1/2

cup

powdered sugar

1

tub

8 oz, whipped topping, thawed

1

can

21 oz, blueberry pie filling
Instructions
Using a food processor, process graham crackers into fine crumbs.

Mix together graham cracker crumbs and cinnamon.

Add melted butter and mix well to evenly coat. Reserve 2 tablespoons of crumbs and set aside.

With remaining crumbs, press into an even layer into the bottom of a 9x9 baking pan. Set aside.

Beat together cream cheese and powdered sugar with a hand mixer.

Add whipped topping and beat until smooth.

Spread half of the cream cheese mixture onto the top of the crust.

Top with blueberry pie filling.

Top with remaining cream cheese mixture and spread evenly.

Sprinkle with reserved graham cracker crumbs.

Cover and refrigerate for 4 hours or overnight before cutting into squares and serving.
Love this recipe?
Follow @bubbapie for even more delicious recipes!!