This Velveeta Mac and Cheese Recipe is the easiest, cheesiest family dinner you'll make all week! The Velveeta Cheese makes this classic comfort food dish ultra creamy and delicious!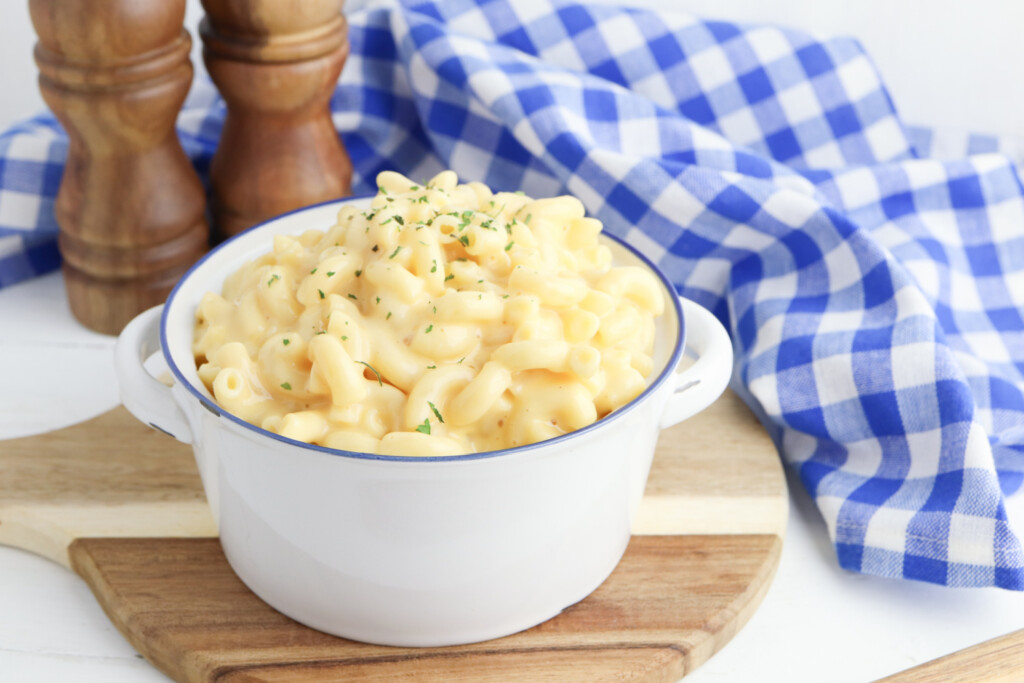 Why You'll Love Velveeta Mac and Cheese
EASY AND SIMPLE – Using just 5 ingredients (not including salt or pepper) this dish is a so easy to make! It's a great recipe for beginners or to let you kids help out with. And you can make your pasta ahead of time, which would mean you could prepare this meal in just minutes!
KID FRIENDLY MEAL – If you don't have time to debate the next bit with your child tonight, I'm willing to be you'll get no complaints with this Mac and Cheese recipe! Perfect for picky eaters!
LEFTOVERS – This recipe makes plenty to feed a family of 4 with lots leftover for lunch throughout the week! It reheats great in the microwave. And, if needed, it's easy to double this recipe for a larger crowd or just if you want more leftovers!
VERSATILE – Macaroni and Cheese is great as a side dish or a main course. It travels wells and you can bring it to picnics, potlucks or pitch ins.
Why Use Velveeta For Macaroni and Cheese
There are tons of recipes for Macaroni and Cheese. But we love to use Velveeta (or processed cheese) for this recipe because it makes it super creamy. It melts so easily with the pasta, it's like they were made for each other!
If you've ever tried to make homemade mac and cheese and were disappointed with the "cheesiness" of it, we promise that won't happen here! Also, making Velveeta Mac and Cheese is so much simpler than having to grate your own blocks of cheese!
How To Make Velveeta Mac and Cheese
It's so simple! Just a couple of easy steps and you can enjoy this delicious meal! For step-by-step instructions, check out the printable recipe card below. And also be sure to check out our ideas to make this dish even more exciting and delicious! But here is what you'll need to get started:
MACARONI – Fully prepared. You will need to cook and drain it ahead of time.
BUTTER – We used unsalted butter. But you can use salted if you'd like. You may need to add less salt later in the recipe.
FLOUR – Any brand of flour will do. This is to make your Roux.
MILK – We used 2% milk. But you can use whatever you'd like. Lighten it up to shave some calories. Or use Whole Milk or even Half and Half to make this dish even richer and creamier.
VELVEETA – Or any brand of processed cheese. These days, Velveeta makes lots of different flavors of cheese you could use in your mac and cheese. From Queso Blanco to Sharp Cheddar to Mexican with Jalapeno. Check them out!
SALT AND PEPPER – To taste.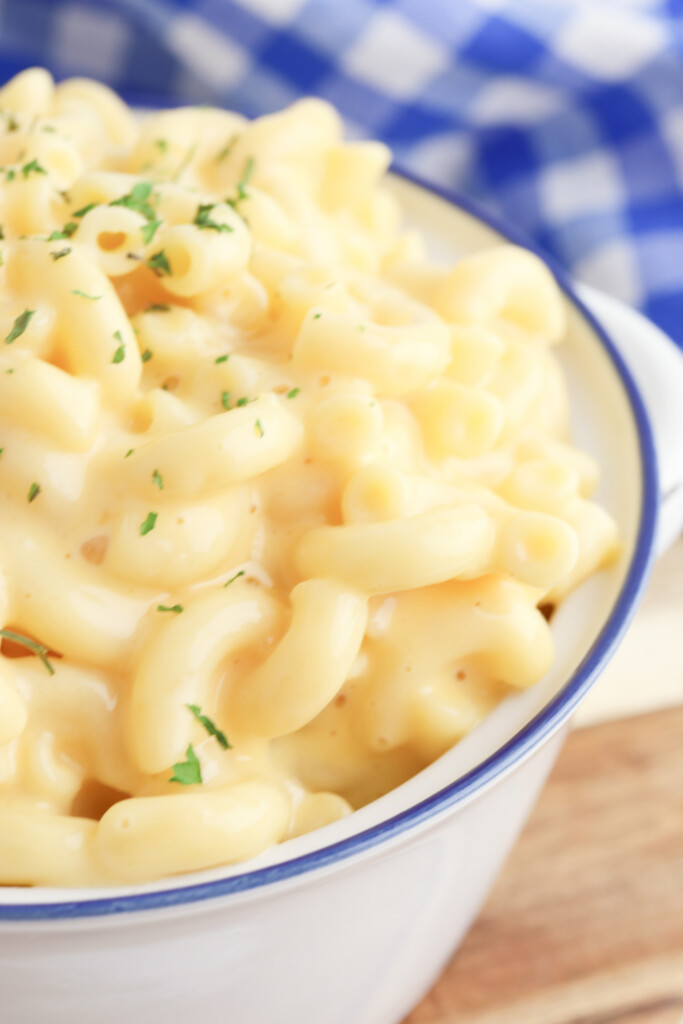 Instant Pot Mac and Cheese with Velveeta
You can make Velveeta Mac and Cheese in and Instant Pot too! Just saute 2 tablespoons of butter in your Instant Pot. Then add 2 cups uncooked pasta and 4 cups of water. Cook on high for 6 minutes. Then just add the milk, cheese, salt and pepper and stir until combined.
What Is The Best Pasta For Macaroni and Cheese?
Obviously, "Macaroni" is usually used for Mac and Cheese. And Elbow Macaroni is the most common shape! But you can really use any kind of smaller pasta noodles you'd like. Personally, I love an pasta shape with lots of "nooks and crannies" for the cheese sauce to get into. Shell Pasta (actually called Conchiglie) is great for this purpose. But some people use Penne, Rigatoni or any Spiral Shaped Pasta.
We would advise against any longer noodles, like spaghetti, etc….
What To Add To Mac and Cheese?
There are a number of "add-ins" you can add to Mac and Cheese to make this dish even more delicious. Some ideas would be:
Meats:
Bacon
Bacon Bits
Ground Beef
Salmon
Tuna
Ham Cubes
BBQ Pork or Chicken
Spice:
Salsa
Hot Sauce
Sriracha
Ro-Tel Tomatoes with Green Chilis
Jalapenos
Vegetables/Seasonings
Carrots
Broccoli
Peas
Pesto
Storage, Freezing and Leftovers
Leftover Mac and Cheese tastes just as good (if not better) than when it's freshly made! Just store leftovers in an airtight container in your refrigerator. It should be good in your fridge for about 4-5 days. It reheats just fine in the microwave. But you can also reheat in on the stovetop over a low heat. Splash in some fresh milk if you need to.
You can also freeze Macaroni and Cheese. Let it fully cool to room temperature and put it in a freezer safe container or freezer bags. It will be good in your freezer for about 3 months. Thaw out overnight and reheat.
Notes, Tips and FAQs
CAN YOU MAKE MAC AND CHEESE GLUTEN FREE? – Yes. Just use gluten-free pasta and gluten-free flour to make this dish gluten-free.
ADD SOME REAL CHEESE – Add a little bit of real shredded cheese to this dish to make it have an even stronger cheese flavor. We'd go with shredded cheddar cheese, but use whatever you'd like. And we recommend shredding your own cheese rather than uses the pre-shredded stuff.
ADD A CRISPY TOPPING – Some people like that golden, crispy topping on their mac and cheese. To do this, simply pour it into a casserole dish when it's done, sprinkle it with some breadcrumbs or crushed Ritz Crackers and put it in the oven and bake for 7-10 minutes at 400 degrees. Look for the top to become golden-brown and it'll be done! If you like this kind of Mac and Cheese, you've got to check out our Copycat Cheesecake Factory Macaroni and Cheese!
We hope you enjoy this Velveeta Mac and Cheese Recipe. We'd love to hear how it turns out in the comment section. Happy Eating!
LOOKING FOR MORE CLASSIC COMFORT FOOD RECIPES? CHECK OUT: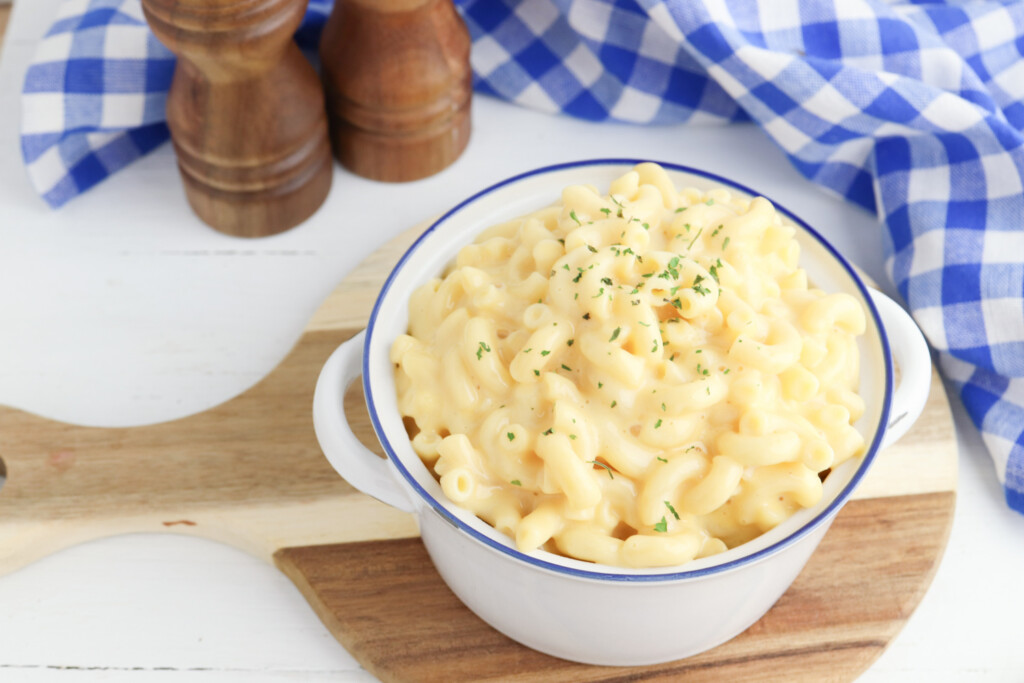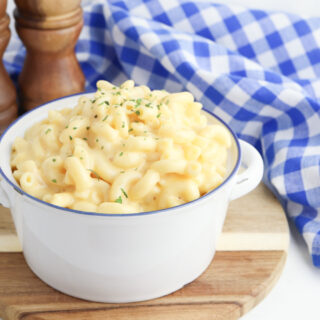 Rate this Recipe
Velveeta Mac and Cheese
This Velveeta Mac and Cheese Recipe is the easiest, cheesiest meal you'll make all week! The Velveeta Cheese makes this classic comfort food dish ultra creamy and delicious! 
Ingredients
16

2 cups ounces elbow macaroni, prepared

1/4

cup

butter

2

tablespoons

flour

1

cup

milk

1

pound

Velveeta

cubed

Salt and pepper
Instructions
Heat butter over a medium heat in a large saucepan.

When the butter is melted, add the flour and stir to mix. Continue simmering until the mixture begins to brown.

Add the milk and whisk to combine. Continue cooking until the milk just begins to boil, whisking constantly to prevent lumps.

When the milk starts to bubble, remove it from heat and stir in the Velveeta cubes until melted.

Add the cooked macaroni and stir until fully coated. Season with salt and pepper as needed before serving.
Nutrition
Love this recipe?
Follow @bubbapie for even more delicious recipes!!