This Chuck Roast Crock Pot Recipe is all about the "low and slow" to create super tender meat, delicious gravy and hearty veggies! Total comfort food! This is a meal all by itself, but serve with some mashed potatoes or a side salad for a true feast!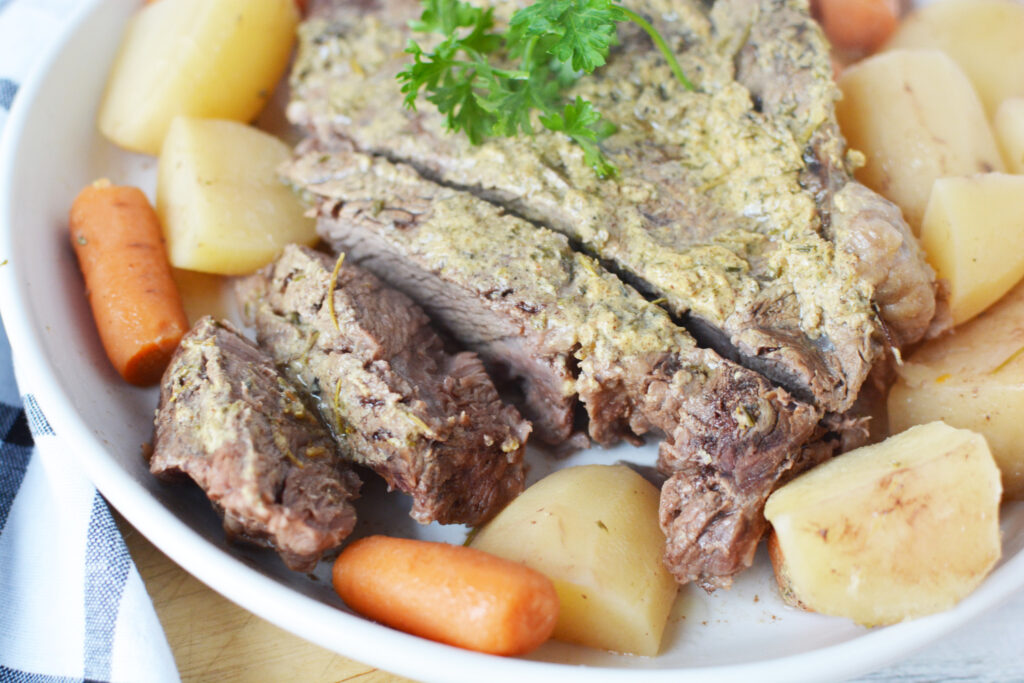 Why Cook Chuck Roast In A Crock Pot?
EASY – Just set it and forget it! This simple recipe is almost impossible to mess up! Let your Slow Cooker do all the work. All you need to do is time it so dinner will be ready when you need it!
ONE POT MEAL – You'll be making this all in your Crockpot! So you won't have a ton of dishes and cleanup is so easy!
DELICIOUS – Swimming in rich gravy and hearty vegetables, this Slow Cooker Chuck Roast is a delicious dinner that will fill your kitchen with amazing aromas. Whether you are making this dish on a lazy Sunday or letting it cook while you are at work, I just love the smell of a slow cooker working it's magic in my kitchen! I mean, is there anything better than walking in the door to the aroma of dinner already being ready to eat!?!?
Difference Between Chuck Roast and Pot Roast?
While both a beef roast, a lot of people wonder what the difference is between a Chuck Roast and a Pot Roast. A Pot Roast is just the term used to describe cooking a larger, tougher and less expensive cut of meat in a pot on a low heat, usually braising it in a liquid. Cooking a beef chuck roast slow on a low heat causes the fibers in the meat to separate, creating a very tender product. It also lets some of the juices out, to mix in with your gravy! The most popular cut of meat to do with with is a Chuck Roast. So, a Chuck Roast is also a Pot Roast. There are a ton of pot roast recipes out there!
Chuck Roast Crock Pot Recipe
As always on our blog, we keep things pretty simple here. This is a pretty pantry friendly recipe and there are lots of avenues to improvise and add ingredients if you wish. I'll give you some suggestions, but really, the sky is the limit!
CHUCK ROAST – We recommend using a wider, flatter cut of meat that will lay well in your Slow Cooker. Anything about 3-4 pounds will work.
POTATOES – We used Russet Potatoes, quartered. But Yukon Gold or even red Potatoes will also work.
CARROTS – We used baby carrots, which was fine. But just make sure you use larger ones. Otherwise they will overcook and get too mushy. You can also use full size carrots if you want.
DIJON MUSTARD – This is our secret ingredient. It really gives the flavor some depth!
SEASONINGS – We used one teaspoon each of Rosemary and Thyme. But, again, this is an opportunity to add any seasonings that sound good to you! Adding some minced garlic would be a great idea as well!
SALT AND PEPPER – To taste.
BEEF BROTH – For our gravy. Some recipes call for a little Worcestershire Sauce as well. If you want to blend that in to your beef broth, go for it!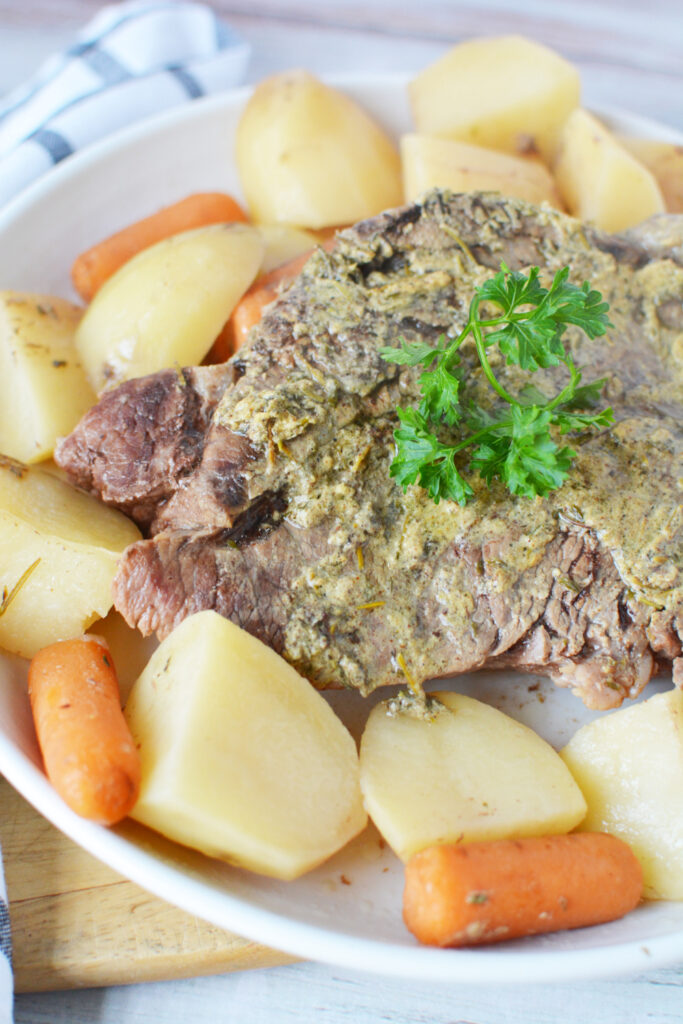 Do You Need To Sear Your Chuck Roast Before Cooking?
Do you need to sear the meat before making a slow cooker pot roast recipe? No. You don't. We didn't and it turned out great. That being said, if you have time and you want to do it, you'll get a nice crust around your roast that will be pretty awesome. To sear your Chuck Roast, lightly coat all sides with some olive oil. Heat a large skillet or pot to a medium high heat. Then sear each side of the roast for about 4-5 minutes per side.
An additional step you can take for even better results is to put about 1/2 cup of the beef broth in the skillet and scrape up all the brown bits off of the pan. Then dump it all in your Crockpot!
What If My Gravy Is Too Thin?
You can thicken it up by adding some cornstarch, but don't do this until at least the last hour of cooking, or you'll get a cornstachy flavor. Alternately, you can heat 1/2 cup of beef broth in a skillet and whisk in the cornstarch to a desired consistency. Let it cook down for a bit and then add that to your Chuck Roast.
If you don't have cornstarch, you can also add a bit of flour to the beef broth.
Other Notes, Tips and Variations
MAKE THE NIGHT BEFORE – You can cut everything and add it all to your Crockpot the night before and keep it in your fridge. Then, in the morning, all you have to do is plug it in and turn it on.
DON'T COOK ON HIGH – You'll notice I didn't give a cooking time for the high setting. We suggest cooking this one on low, it'll be worth it.
VEGETABLE ADDITIONS – Add onions, mushrooms, sweet potatoes. Or any root vegetable that sounds good like turnips or parsnips!
RED WINE – For a little more depth of flavor, add 1/2 cup of red wine.
We hope you enjoy this Chuck Roast Crock Pot Recipe. We'd love to hear how it turned out for you and if you have any suggestions or variations in the comments section. Stay in touch and happy eating!
LOOKING FOR MORE CROCK POT RECIPES? CHECK OUT: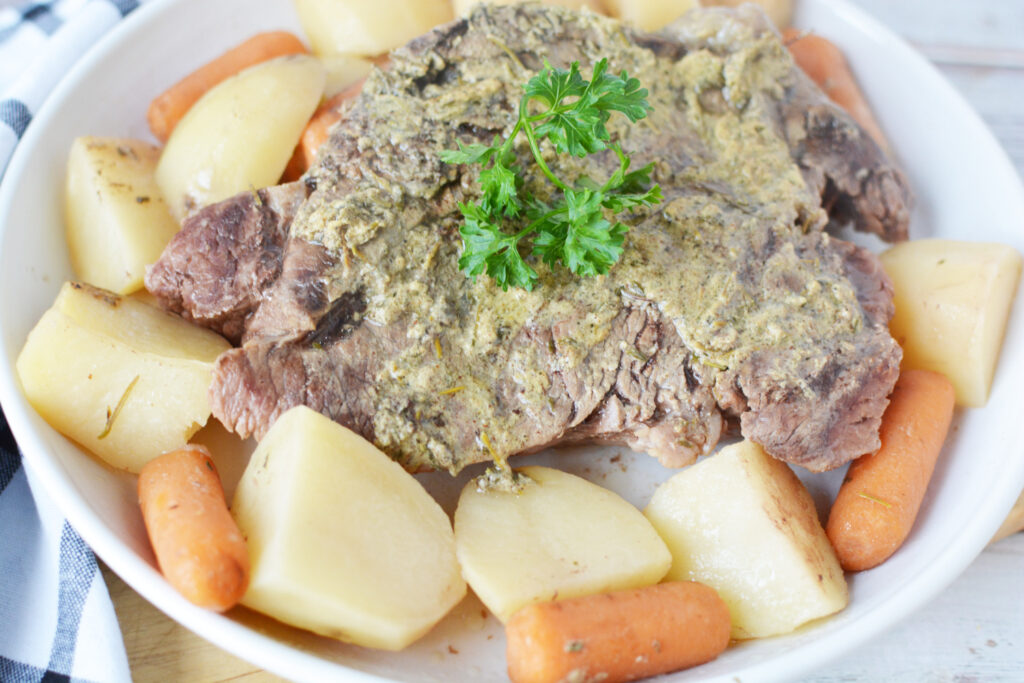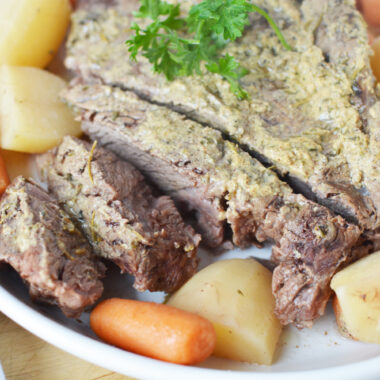 Rate this Recipe
Chuck Roast Crock Pot Recipe
Are you ready for some serious Homestyle Cooking?!?! This Chuck Roast Crock Pot Recipe is all about the "low and slow" to create a tender meal that the whole family will love!
Ingredients
2.5-3

lb

chuck roast

1

pound

russet potatoes

peeled and quartered

1

pound

fresh baby carrots

3

tablespoons

dijon mustard

1

teaspoon

dry rosemary

1

teaspoon

dry thyme

1

teaspoon

salt

1/4

teaspoon

ground black pepper

1-1/2

cups

beef broth
Instructions
Add roast to a slow cooker and place potatoes and carrots around the beef.

In a small bowl, combine mustard, rosemary, thyme, salt and pepper and mix well.

Use a pastry brush to spread on the top of the roast.

Pour beef broth around the carrots and potatoes.

Cover and heat on low for 6-8 hours. Slice and serve.
Nutrition
Love this recipe?
Follow @bubbapie for even more delicious recipes!!