These Hermit Cookies are an old fashioned spiced cookie originating from New England. They are soft and chewy and full of flavor!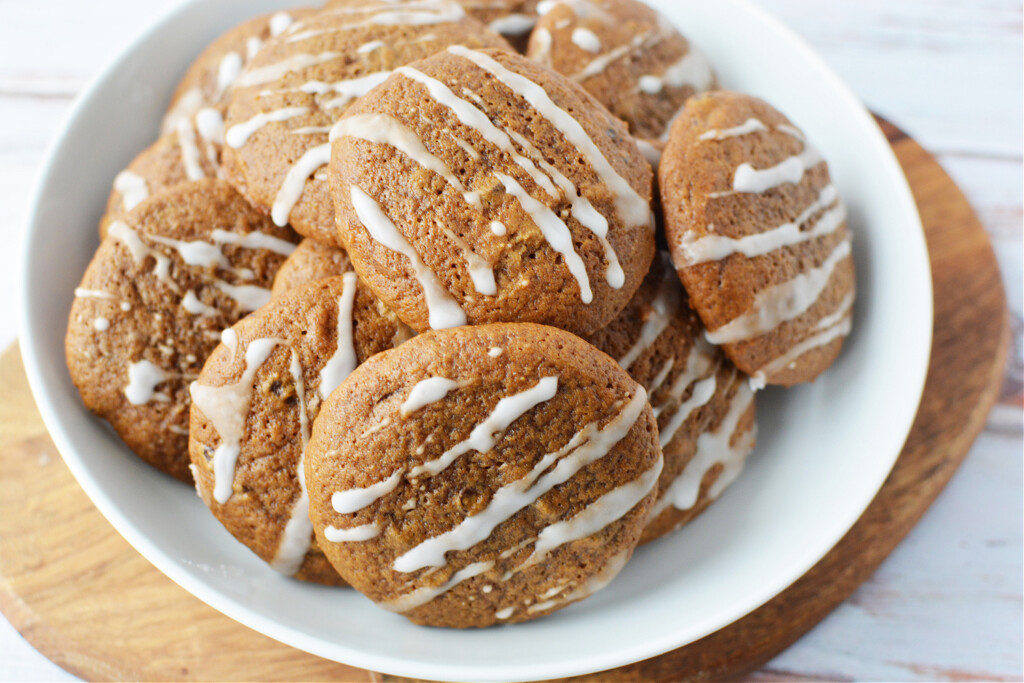 Why You Will Love Hermit Cookies
EASY – This is is super easy recipe for such complex flavors in a cookie. It's great for beginner bakers that want to branch out a little more.
CLASSIC, OLD FASHIONED FLAVORS – With cinnamon, allspice, ginger and molasses, this isn't your everyday cookie. It's a great recipe if you want to try something a little different but still delicious! If you like classic, old fashioned cookie recipes, check out these Berger Cookies, Meyer Lemon Cookies or Hello Dolly Bars!
EASY TO ADAPT – Like many recipes that have been around for decades, Hermit Cookies have evolved over the years and everyone sorta has their own take on them. Read below for some ideas to change things up in this cookie!
Why Do They Call Them Hermit Cookies?
No one really knows for sure. But they first started appearing more than 100 years ago in New England and Southeastern Canada. The agreed upon explanation is that these cookies "travelled well" and would stay good for a number of days on the road.
While you can find slight variations, most Hermit Cookies taste a lot like gingerbread cookies, with the addition of a combination dried fruits, nuts and/or chocolate.
Some people make "Hermits" a loaf of bread that is then sliced into servings. And some people make "Hermit Bars" where the batter is poured into a baking pan, baked and then cut into cookie bars.
But Hermit Cookies largely consist of drop cookies baked on a pan and resemble traditional cookies.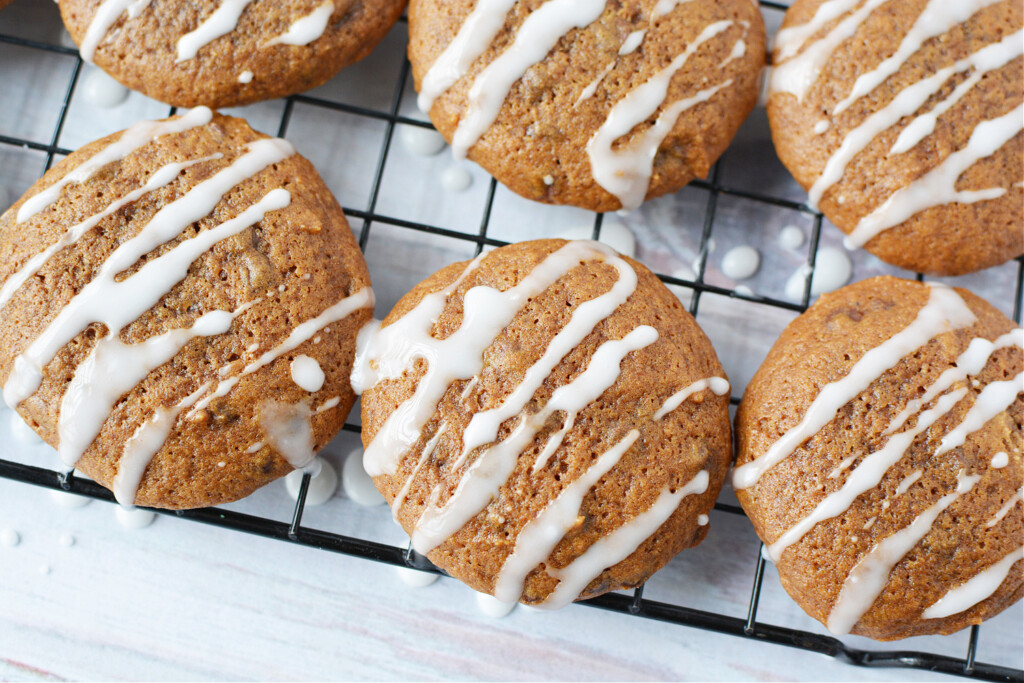 Hermit Cookies Recipe
For step-by-step instructions, check out the printable recipe below. But here is what you'll need to get started:
FLOUR – Any brand of all-purpose flour will work.
GROUND CINNAMON – Helps to give these cookies their spice and brown coloration.
BAKING SODA – A leavening agent that makes these cookies soft and puffy!
SALT – It's always important to bake with salt to offset the sweetness
ALLSPICE – Gives these cookies their complex flavor.
GINGER – If possible grind your own ginger.
BUTTER – Unsalted and softened.
DARK BROWN SUGAR – Dark Brown Sugar has more molasses than Light Brown Sugar. So, if you need to use Light Brown Sugar, you probably can, and just add a bit more molasses to this recipe.
MOLASSES – We used light molasses. But you can use medium if you'd like a little stronger, less sweet flavor.
VANILLA – We always recommend using a high quality vanilla extract. Don't get the store brand stuff. It's worth the extra money, we promise.
EGGS – Room temperature if possible.
CHOCOLATE CHIPS – We used mini-chocolate chips. But you can use whatever you'd like.
ORANGE ZEST – This is optional is, full disclosure, we forgot to stir it in and the cookies still tasted great!
POWDERED SUGAR – Also called Confectioner's Sugar. Used to make the icing for you cookies. Making the icing is optional though.
MILK – Mixed with Powdered Sugar. We used 2% milk. But if you want a richer icing, you can use half and half or even heavy cream.
Storage, Leftovers and Freezing
You can store Hermit Cookies in an airtight container at room temperature. They should be good for about 5 days.
You can freeze Hermit Cookies either before or after baking them. To freeze the cookie dough, scoop out the cookie portions onto a baking sheet. Flash freeze them for about an hour until firm. Then you can put the balls of dough in a freezer bag. Let them sit at room temperature for 30-45 minutes before baking.
Notes, Tips and FAQs
DO HERMIT COOKIES HAVE DRIED FRUIT IN THEM? – Yes! Traditionally they do have dried fruit such as raisins, dates, currants and dried apples, cranberries or dates. Feel free to substitute the chocolate chips for any of these.
DO HERMIT COOKIES HAVE NUTS IN THEM? – Yep! Many traditional versions of this cookie do include nuts into the mixture. Our son is allergic, so we avoid them. But walnuts, pecans or almonds would all be great in this cookie. A lot of people like to toast them adding them in.
ADD OTHER FLAVORS OR SPICES – This is one of those cookies that is easy to adapt to your own liking. Some people add nutmeg, ground cloves, coriander or other spices to their Hermit Cookies.
We hope you enjoy this Hermit Cookies Recipe! We would love to hear how it turns out in the comment section below. Happy Eating!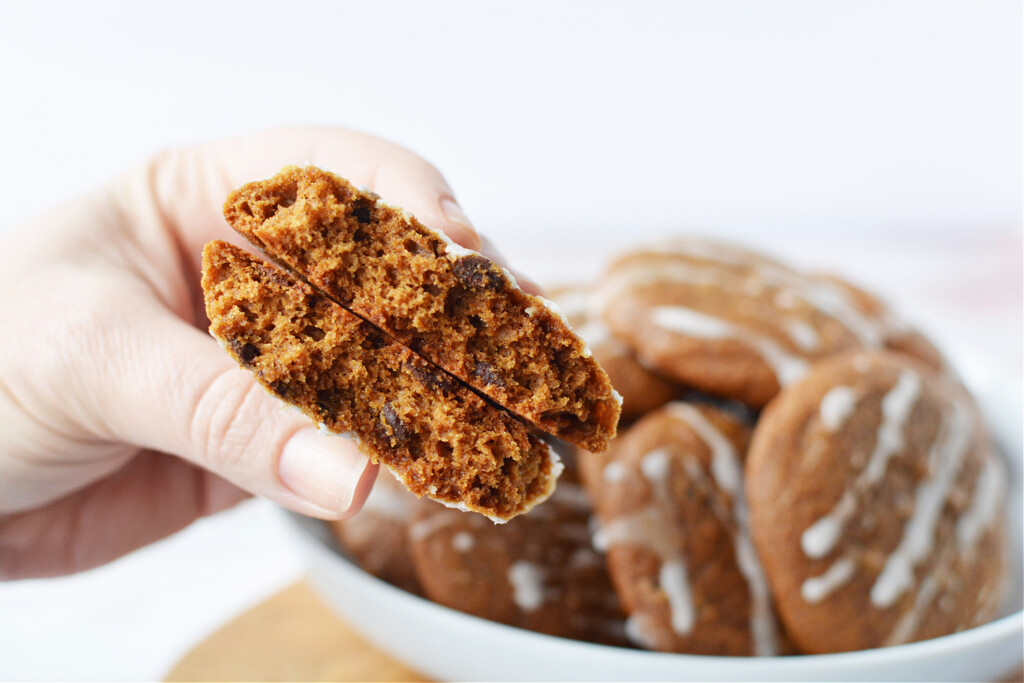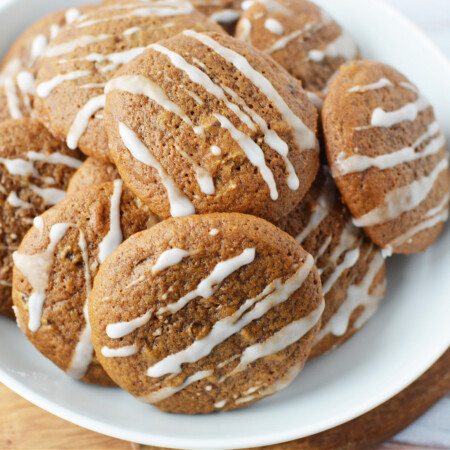 Rate this Recipe
Hermit Cookies
These Hermit Cookies are an old fashioned spiced cookie. Originating from New England decades ago, they are soft and chewy and full of flavor!
Ingredients
2

cups

all purpose flour

1

teaspoon

ground cinnamon

1/2

teaspoon

baking soda

1/2

teaspoon

salt

1/4

teaspoon

allspice

1/8

teaspoon

ground ginger

1/2

cup

1 stick, butter, softened

1/2

cup

dark brown sugar

1/2

cup

molasses

1

teaspoon

vanilla

2

eggs

1/2

cup

mini chocolate chips

zest of 1 orange

1/4

cup

powdered sugar

1-2

teaspoons

milk
Instructions
In a small bowl, combine flour, cinnamon, baking soda, salt, allspice and ginger. Mix well and set aside.

Beat together butter, brown sugar and molasses with a mixer for 3 minutes, scraping down the sides halfway through mixing.

Add vanilla and eggs and beat well.

Add dry ingredients and mix just until combined.

Fold in chocolate chips and orange zest.

Using a 2 tablespoon portion scoop, scoop batter onto rounds wax paper. Place into the refrigerator for 1 hour.

Preheat oven to 325 and place dough, 2" apart on a parchment paper lined baking sheet and bake for 12-14 minutes or until edges are firm. Remove from oven and let stand to cool on baking sheet for 2 minutes before moving to a cooling rack to cool completely.

Once cookies are cool, mix together powdered sugar and milk until you have a glaze consistency that will fall off a spoon but isn't too thin that it barely sticks onto the spoon. Drizzle on top of cookies and let stand to harden.
Love this recipe?
Follow @bubbapie for even more delicious recipes!!