Liven up your lunch with this tasty Southern Chicken Salad Recipe! Tender chicken is mixed with onion, celery, egg, and relish on top of a buttery baked croissant roll. Whether you make it into a sandwich, put it on some lettuce, dip some crackers into it, or just eat it by itself, this is the ultimate in southern comfort food!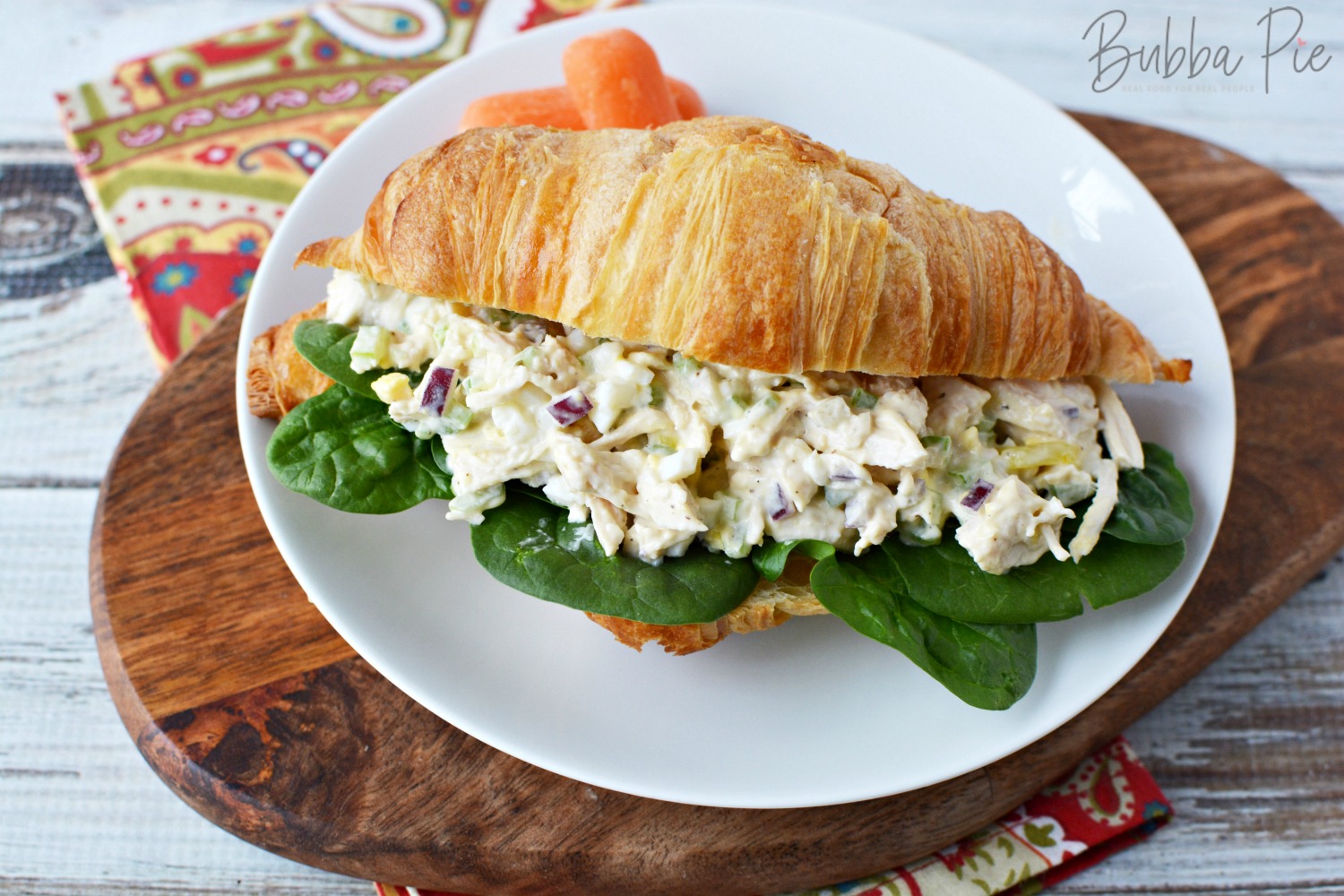 Finding The Perfect Chicken Salad Recipe
Finding a good chicken salad recipe is like finding a great pair of blue jeans. It is something you can use all the time, for lots of different purposes. And it's very comforting. I've found a Southern Chicken Salad recipe that is all of these things. Whether you want to make it ahead of time for lunches throughout the week, bring it with you on a picnic or serve it to friends and family during a party, this Southern Chicken Salad Recipe will always be there for you. Just like your favorite pair of jeans!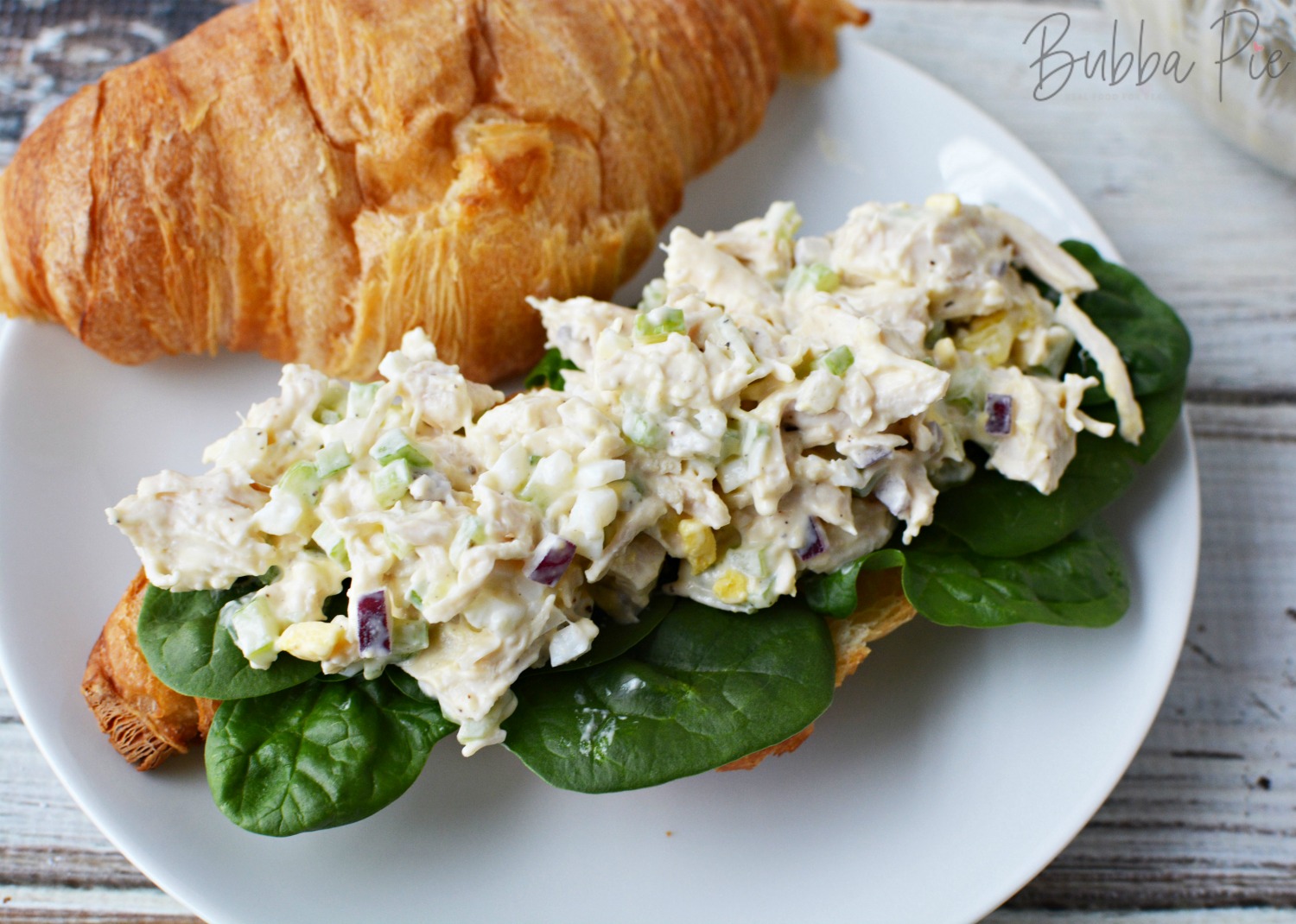 What Makes It A Southern Chicken Salad?
Traditional Chicken Salad Recipes With Eggs
Generally speaking, what makes this a "Southern" style chicken salad is that we are adding dill relish and a hard boiled egg to this recipe. This gives it that ultimate comfort food taste!
While this recipe makes enough Chicken Salad for about four sandwiches, you could always double the ingredients to make more if need. Also, don't forget to add the salt and pepper to taste. For recipes like this, the right amount of salt and pepper can make all the difference.
And, lastly, it's best to use a SUPER large mixing bowl for all these ingredients. We suggest this one that is light, durable and comes with a cool handle that helps you grip it!
What Ingredients Will You Need?
For step-by-step instructions, check out the printable recipe card below. But here is what you'll need to get started.
CHICKEN– We suggest a rotisserie chicken. If you cook the chicken breasts, make sure you either shred it or chop if finely.
RED ONION– You'll want a nice fresh onion, This gives the chicken sandwich a nice crunch!
DICED CELERY– Same thing as the onion. Nice, fresh and crunchy!
DILL RELISH– This relish really balances the taste well.
MAYONNAISE– Please. Pretty please, use the real stuff here. If you really want to shave some calories, you can use low fat Mayo.
EGG– Hard Boiled. We love to hard boil or eggs in an Instant Pot. So easy! The egg gives this recipe such a nice flavor and texture!
SALT AND PEPPER– Stir in Salt and Black Pepper to taste.
What Is The Best Chicken To Use For Chicken Salad?
For this recipe, I would either use a Roasted Chicken or a Poached Chicken. In fact, you best bet is to probably just go out and grab a rotisserie chicken. Then it will already be cooked and ready to go! But, if you want to stick with white meat chicken breast, then Roasting it or Poaching (boiling) it is the best way to go!
We often cook our chicken in an Instant Pot, which always works out great. It is quick, easy and the chicken turns out perfectly every time!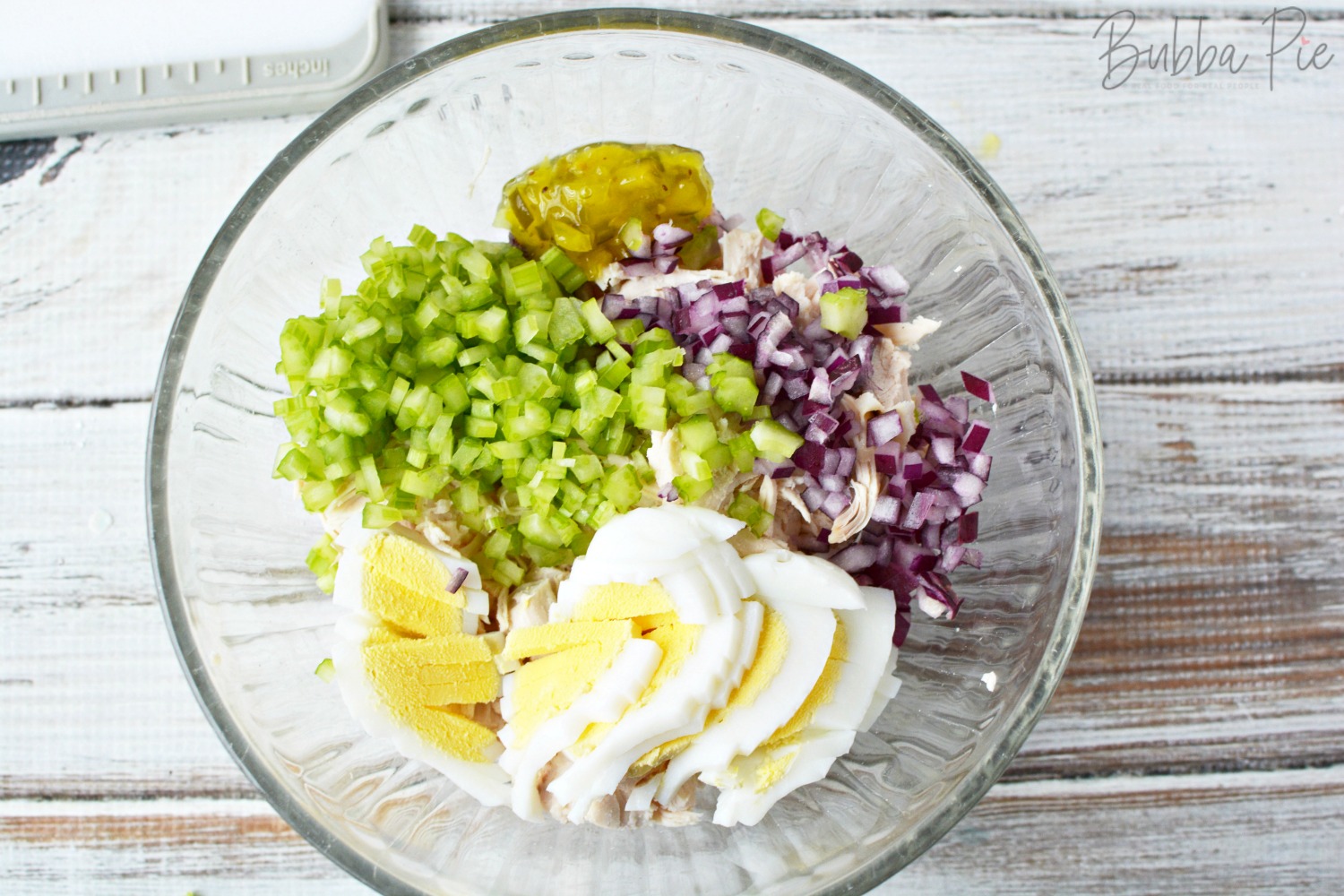 What Is The Best Bread To Use?
One of the key ingredients that makes this a Southern Style Chicken Salad Sandwich is the bread we are putting it on. I think that bread is one of the most important (and often most overlooked) ingredient in any sandwich. For this recipe, we love to use a soft, buttery, croissant roll. Although I am a strong proponent of the croissant roll, there are other options as well. It would taste great on some nice thick, crusty homemade bread, bagel or multi-grain bread. For a low carb option, you could also wrap it up in some lettuce!
Speaking of lettuce, I always recommend lining your bread with a layer of lettuce (the softer and more buttery the better!). This way, the chicken salad doesn't seep into the bread and make it soggy.
Fun Chicken Salad Sandwich Additions
FRESH SLICED TOMATO – The meatier the better!
SLICED GRAPES
SWEET PICKLE RELISH
NUTS – Chopped walnuts, pecans or sliced almonds.
Side Dishes That Would Go Great With Your Sandwich
Or…. Just some crispy potato chips!
Storing Leftovers and Freezing
Keep leftover Chicken Salad Sandwich in your refrigerator in an airtight container. It should be good in your fridge for up to 4 days.
Can you freeze chicken salad with made with Mayo? Well, technically you can. But mayonnaise usually doesn't freeze well and separates. So, I would not freeze this recipe.
Make your next homemade chicken salad recipe Southern Style with this easy recipe! Happy Eating!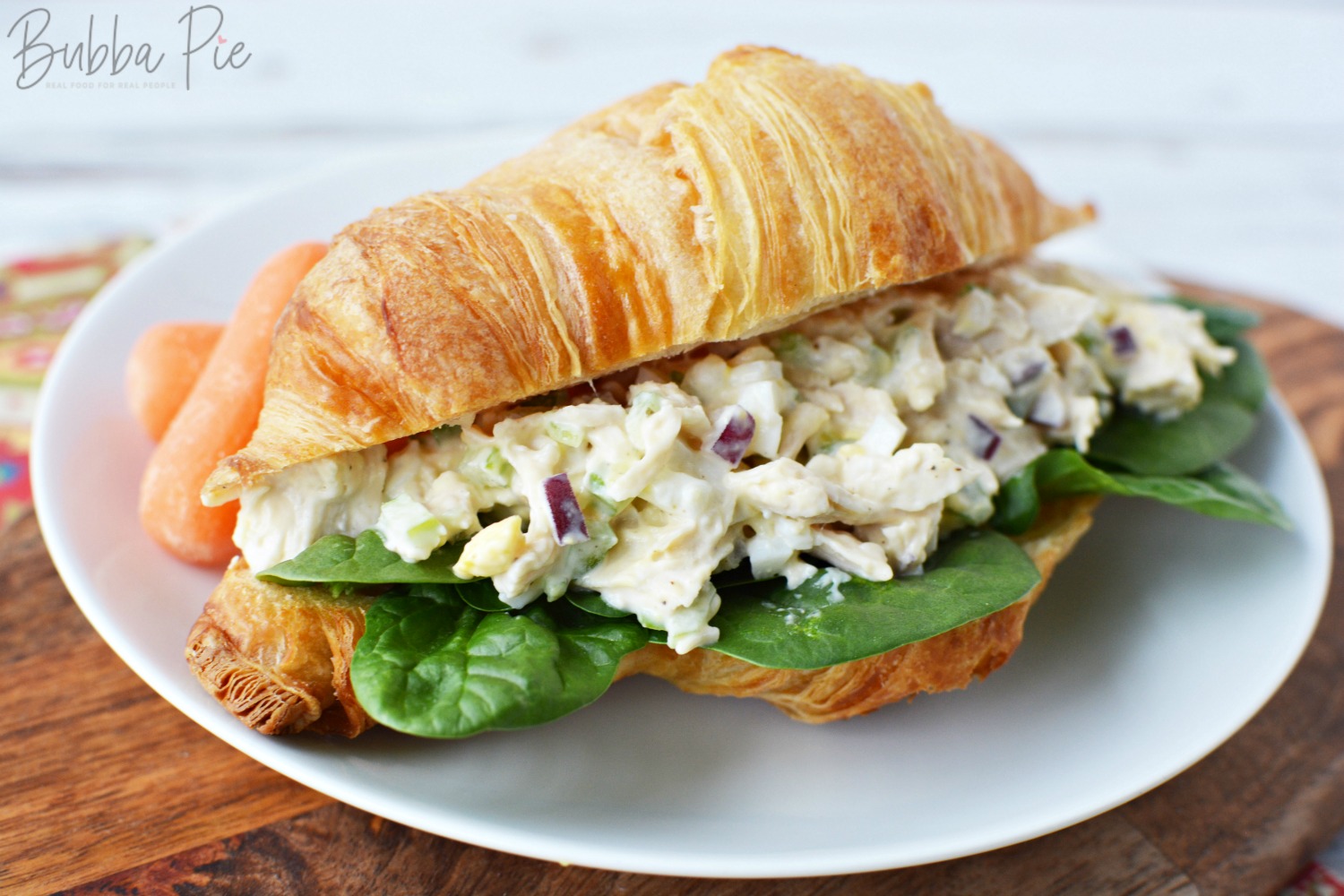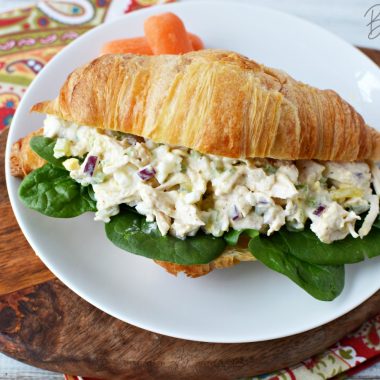 Rate this Recipe
Southern Chicken Salad Sandwich Recipe
Liven up your lunch with this tasty Southern Chicken Salad Sandwich Recipe. Tender chicken mixed in with lots of goodies on top of a buttery baked croissant roll.
Ingredients
2

cups

chicken

cooked and chopped or shredded

3

tablespoons

red onion

finely chopped

3

tablespoons

diced celery

about 1 stalk

1

tablespoon

dill relish

1/2

cup

real mayonnaise

1

hard boiled egg

salt and pepper

4

croissants

fresh spinach or lettuce

optional
Instructions
Cook chicken. We love to use our Instant Pot for recipes like this.

Peel the egg and discard the shell. Dice the egg, using a slicer.

In a mixing bowl, add chicken, red onion, celery, relish, mayonnaise, egg and mix well. Season with salt and pepper and mix well.

Add spinach or lettuce to a croissant and top with chicken salad and serve.

Makes enough for 4 sandwiches.
Nutrition
Love this recipe?
Follow @bubbapie for even more delicious recipes!!