This mouthwatering Chicken Tinga recipe has tender, shredded chicken simmered in a smoky and spicy tomato-chipotle sauce. This easy Mexican recipe is a flavorful delight that's perfect for tacos, tostadas, or as a delicious filling for sandwiches.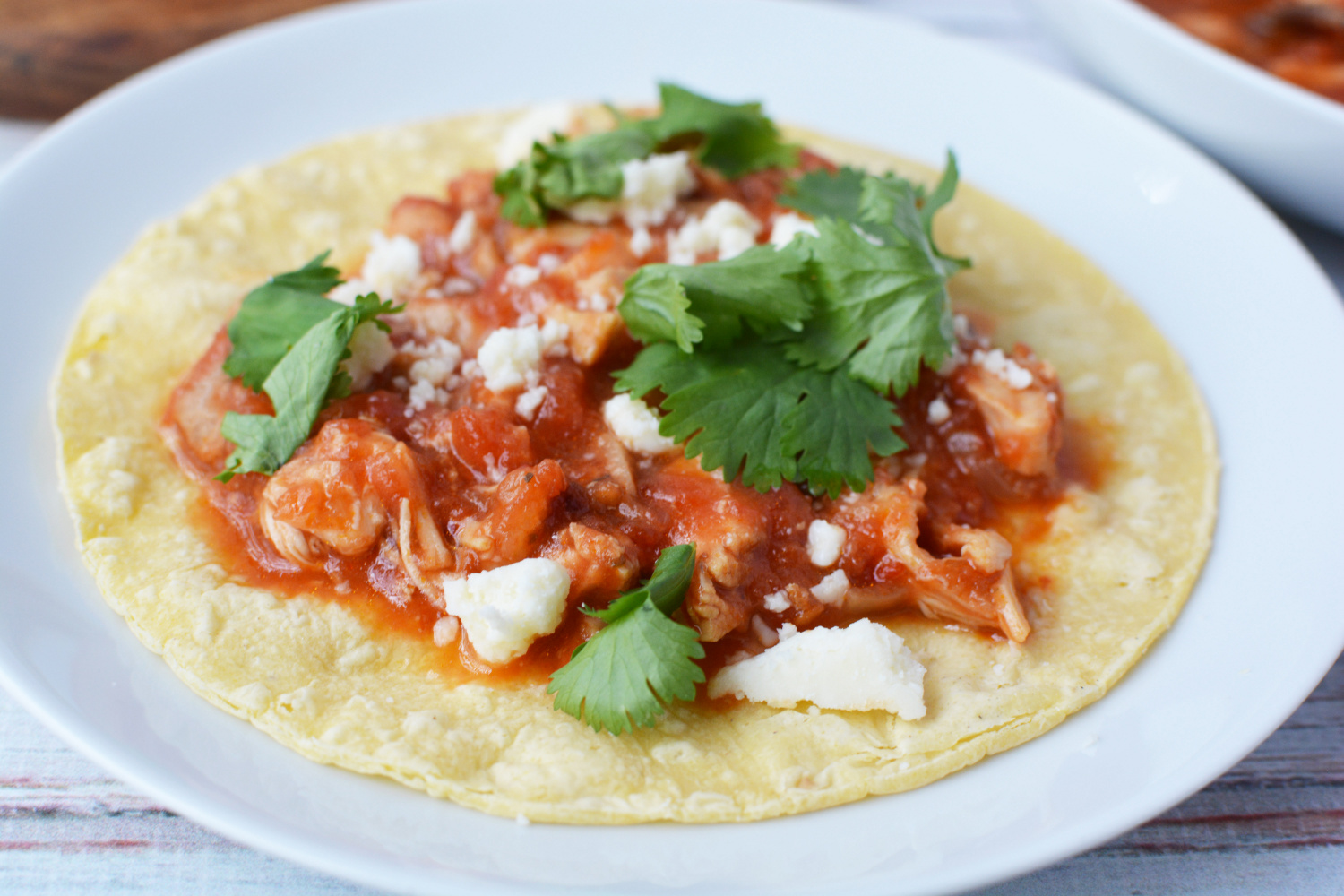 Why You Will Love Chicken Tinga
FLAVOR EXPLOSION: This delicious dish has a bold, complex flavor profile that combines smokiness from chipotle peppers, tangy tomatoes, and tender, seasoned chicken, creating a taste sensation that's hard to resist.
VERSATILE: Chicken Tinga can be used in various ways, from filling tacos and tostadas to topping rice bowls or salads, making it a versatile option for satisfying different cravings.
CONTROL YOUR OWN SPICE LEVEL: You can adjust the spice level to your preference, making it suitable for those who enjoy milder flavors as well as those who crave some heat.
EASY RECIPE: Chicken Tinga is relatively easy to prepare, requiring minimal ingredients, making it accessible to both experienced and beginner cooks.
What Is Chicken Tinga?
The word "tinga" is thought to have its origins in the Nahuatl language, which is spoken by the Aztecs and is still prevalent in some parts of Mexico. It roughly translates to "to put in a sauce" or "to touch lightly," indicating the dish's preparation method.
Chicken Tinga typically consists of shredded or pulled chicken simmered in a sauce made from tomatoes, chipotle peppers, onions, and various spices. This sauce imparts the smoky, slightly spicy flavor that is characteristic of the dish. It's often served in tacos, burritos, tostadas, or as a filling for tortas (Mexican sandwiches).
Chicken Tinga Recipe
There are a number of steps to this recipe. But it is still a very simple, straight-forward dish to prepare. Just follow our step-by-step guide on the printable recipe card below and you will be enjoying this dish in no time! Here is what you'll need to get started:
CHICKEN THIGHS – Boneless and Skinless. We like using chicken thighs because they are so tender and shred easily.
CHICKEN BROTH – In a pinch, you can use vegetable broth if that's all you have.
ONIONS – We use yellow onions for their sweeter, milder flavor. But you can use red onions if you'd prefer.
GARLIC CLOVES – Yeah…. if you must, you can use "Jarlick" if that is all you have.
SALT – To taste.
OREGANO – Helps to give that smoky flavor that is so delicious.
OLIVE OIL – Or really any quality cooking oil will work.
CHIPOLTE PEPPERS – Get the canned Chipotle Peppers that come in Adobe Sauce.
CANNED WHOLE PEELED TOMATOES – The tomatoes will be processed in a blender anyways, so you can use Diced Tomatoes if that is what you have. You can also use fire roasted tomatoes for some extra depth of flavor.
TOPPINGS – We topped ours with Fresh Cilantro, Cotija Cheese and Corn Tortillas. But read below for some more topping inspiration.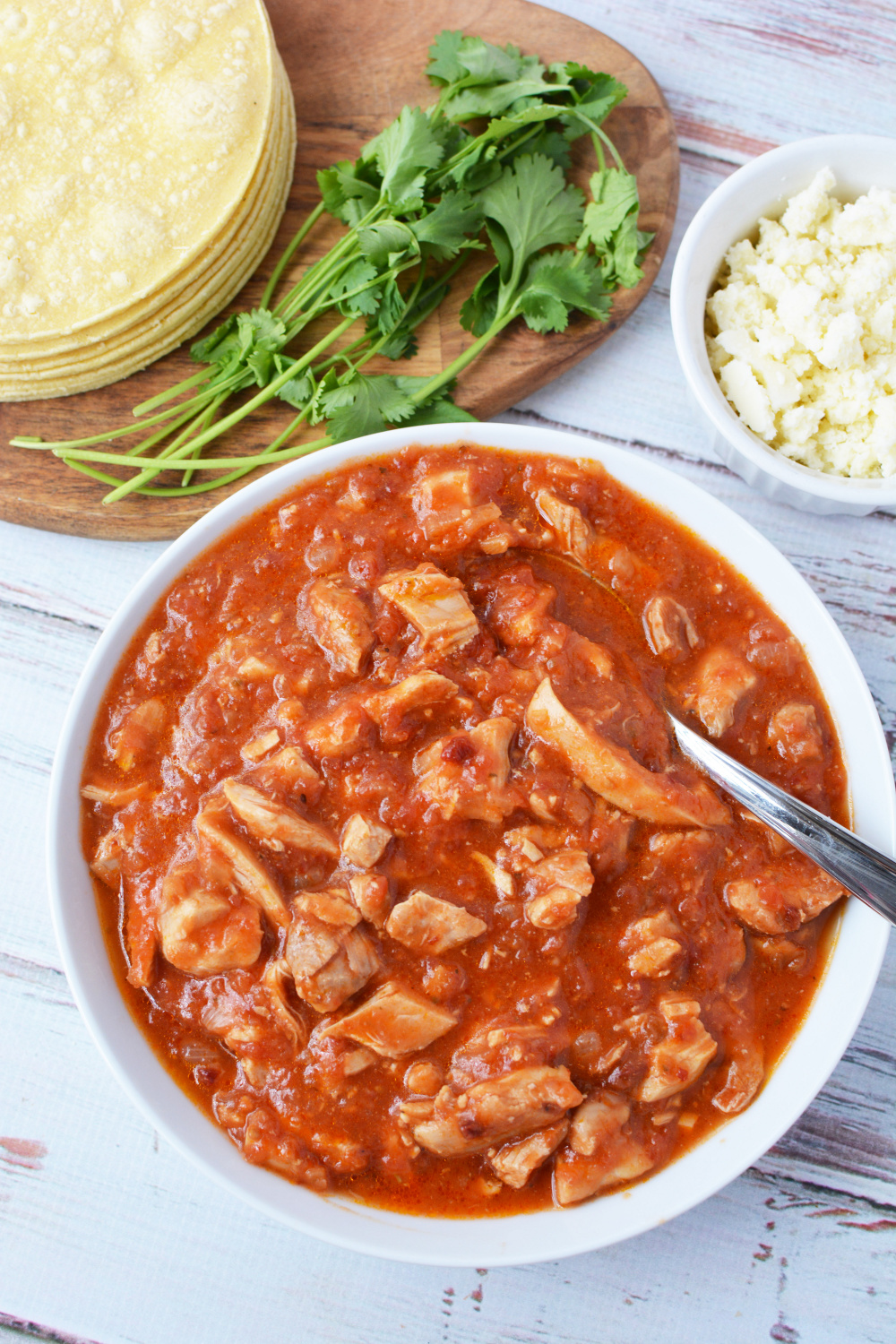 Leftovers, Storage and Freezing
Just let leftovers cool down all the way and store in an airtight container in your refrigerator. Leftovers should be good for about 4 days. They reheat great in the microwave!
To freeze, just let it cool down down fully and transfer to a freezer bag or freezer safe container. It will be good in your freezer for about 3 months. Thaw overnight for a quick and easy dinner!
Fun Ways To Use Chicken Tinga
The greatest thing about this recipe is that there are so many ways to use it! You can use it as a filling for tacos, burritos or tortas. Chicken Tinga would also make some awesome quesadillas. Put it on top of some eggs for a Tex-Mex breakfast. Or blend with some scrambled eggs and wrap in a burrito for a yummy breakfast burrito.
Chicken Tinga Notes, Variations and FAQs
SEAFOOD TINGA: Substitute the chicken with seafood like shrimp or fish for a unique twist on the classic recipe. The smoky tomato-chipotle sauce pairs well with seafood flavors.
VEGETARIAN: Replace the chicken with tofu, seitan, or a plant-based meat substitute for a vegan or vegetarian version of this dish. You can also add beans like black beans or pinto beans for extra protein.
CAN YOU USE CHICKEN BREAST FOR THIS RECIPE?: Yes you can. We just like using thighs because they are so tender and easy to shred.
CHICKEN TINGA TOPPINGS: Top with sour cream, chopped lettuce, fresh lime, fresh avocado, guacamole, green onions, hot sauce, salsa or Pico De Gallo.
WHAT SHOULD YOU SERVE WITH CHICKEN TINGA?: This dish goes great with some Mexican rice, refried beans, black beans or a simple side salad.
We hope you enjoy this Chicken Tinga Recipe. We'd love to hear how it turns out in the comment section below. Happy Eating!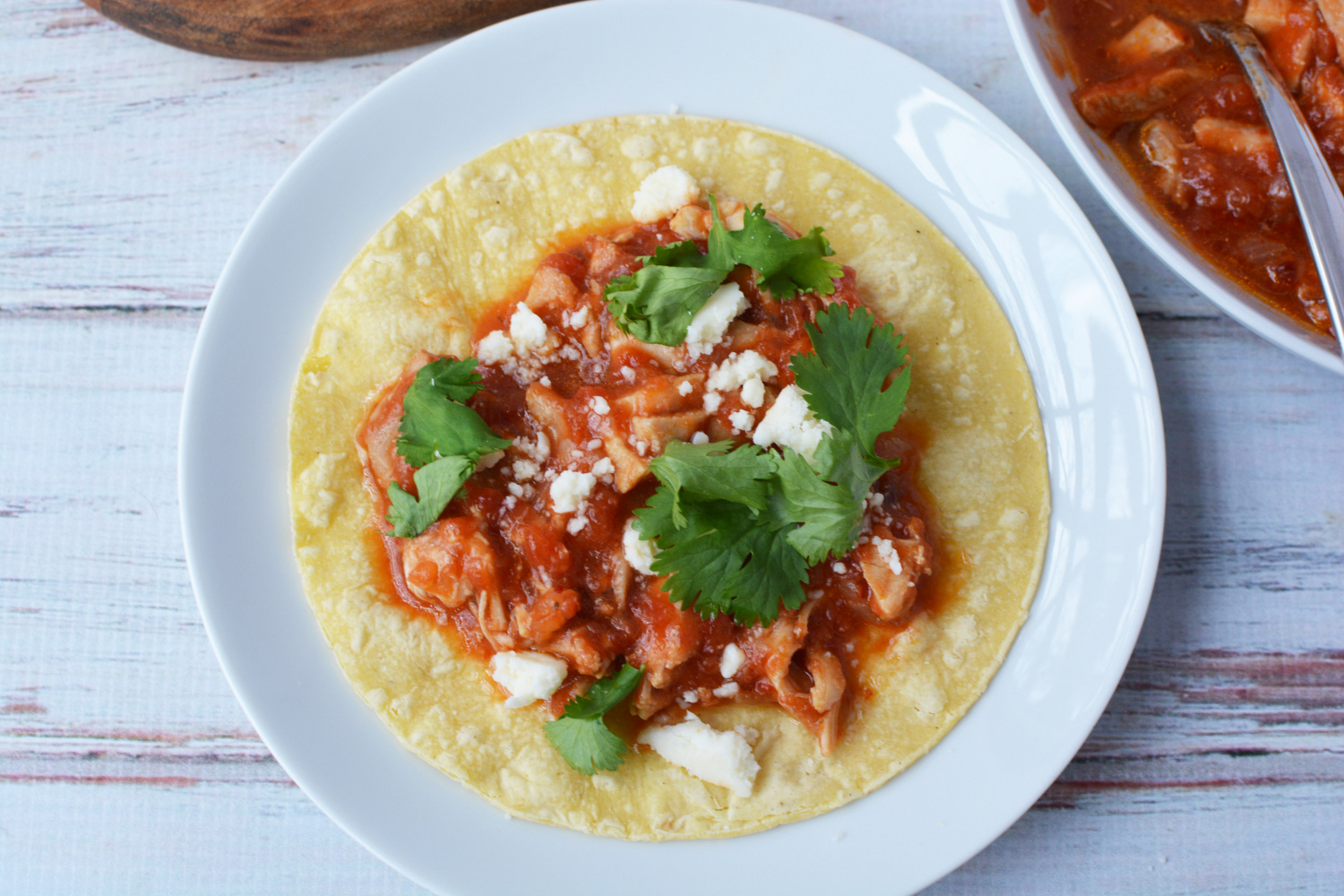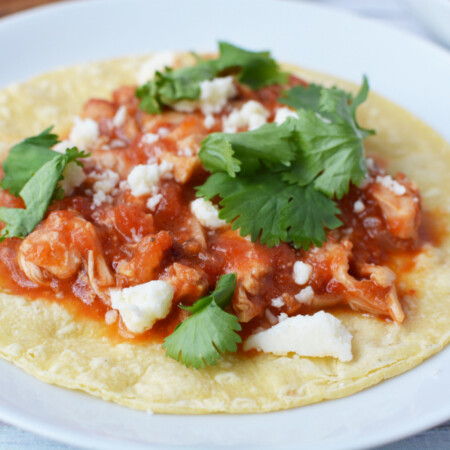 Rate this Recipe
Chicken Tinga
This mouthwatering Chicken Tinga recipe has tender, shredded chicken simmered in a smoky and spicy tomato-chipotle sauce. This easy Mexican recipe is a flavorful delight that's perfect for tacos, tostadas, or as a delicious filling for sandwiches.
Ingredients
2

lbs

boneless

skinless, chicken thighs

4

cups

chicken broth

2

onions

divided

3-4

peeled whole garlic cloves

1

teaspoon

salt

1

teaspoon

dried oregano

2

tablespoons

olive oil

2-3

chipotle peppers in adobo sauce

or more

1

large can

28 oz, whole peeled tomatoes

chopped fresh cilantro

cotija cheese

crumbled

corn tortillas
Instructions
Place onions, garlic cloves, salt and oregano in large stock pot. Add chicken thighs on top.

Add broth and bring to a boil over medium high heat and reduce heat to medium low and simmer for 30 minutes, stirring occasionally.

Remove chicken from pot and set aside. Use a slotted spoon to remove the onions and garlic. Remove broth and reserve.

Add oil and 1 diced onion to the same stock pot. Cook over medium heat until onions begin to soften, about 5 minutes.

Transfer the reserved broth to the pot and over high heat, boil mixture until liquid is reduced to half, about 20 minutes.

Add reserved onions and garlic, tomatoes and chipotle peppers to a food processor. Process for about 5-10 seconds or until smooth.

Add tomato puree mixture to the pot with broth and onions.

Shred or chop chicken and add to the same pot.

Cook for 20 minutes over medium high, stirring occasionally as sauce begins to evaporate and thicken.

When ready to serve, serve on top of corn tortillas with chopped fresh cilantro and crumbled cotija cheese.
Nutrition
Love this recipe?
Follow @bubbapie for even more delicious recipes!!