Print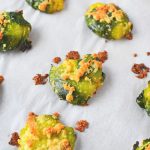 smashed brussel sprouts
Perfect as a zesty side dish or a fun appetizer, these smashed brussel sprouts are tossed with garlic, cheese, oil and just a pinch of heat. Super easy to make, elevate your vegetable dishes with this delicious recipe. 
1/2

pound

fresh brussels sprouts

2

tablespoons

oil

1/4

cup

grated Parmesan cheese

1

teaspoon

garlic powder

pinch

cayenne pepper

salt and pepper
Steam fresh brussels sprouts for 10 minutes. Gently toss onto paper towels to dry.

Preheat oven to 400 and line a baking sheet with parchment paper.

In a large bowl, add oil, cheese, garlic powder, cayenne and mix well.

Season with salt and pepper and mix. Toss brussels sprouts into bowl and mix well to coat.

Place onto prepared baking sheet and use the bottom of a glass or mason jar to mash sprouts.

Bake for 15 minutes. Serve immediately.
This recipe makes about 15-16 Smashed Brussel Sprouts, but you can certainly double this if you have a larger crowd to feed. We  used the bottom of a glass mason jar to smash our Brussel Sprouts, but you can probably use anything on hand that you think will work well! Just make sure that you really dry off the vegetables after steaming them so that they won't get too soggy and soft while you roast them in the oven!
If you want to dress them up even more, it may be fun to lightly drizzle some ranch dressing or even balsamic vinaigrette over your Smashed Brussel Sprouts. 
Nutrition Facts
smashed brussel sprouts
Amount Per Serving
Calories 30
* Percent Daily Values are based on a 2000 calorie diet.