Print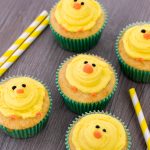 Baby Chick Cupcakes with Homemade Buttercream Frosting
These Baby Chick Cupcakes with Homemade Buttercream Frosting are so cute! They are perfect for Easter or even a baby shower.
Before you begin, ensure that all of your cupcakes are cool to the touch.

Start by making your yellow buttercream. Using an electric mixer, beat together butter, icing sugar, milk and food coloring on medium speed. Gradually increase to high.

The buttercream is complete once the ingredients are well combined and form semi-stiff peaks.

Scoop your yellow buttercream in a piping bag with a round icing tip.

Frost each cupcake first, by icing a flat circle on each cupcake. Then on top, add a thicker layer of buttercream, but the circle should be smaller in diameter to its base (this is to form the body and head).

With your black fondant, roll out 24 tiny spheres. These will act as your chick's eyes.

Add 2 eyes on each cupcake.

With your orange fondant, form 12 spheres, about ¼ of an inch in size.

Shape the fondant spheres into triangles. These will be your chick's beak. Insert into the center of each cupcake.

Form 24 tiny spheres from your orange fondant. Roll them out to form small, thin lines and then bend them slightly. These will act as your chick's little feet. Add two to each cupcake.

Serve and enjoy!
Note that calorie count is for the homemade frosting only, it does not include your cupcake calories.