Print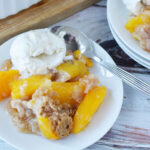 Bisquick Peach Cobbler
This Bisquick Peach Cobbler is a classic summer dessert that is made is easy by using Bisquick Baking Mix! Using fresh, frozen or canned peaches, it only takes a couple minutes to prepare to put in your oven for a sweet, sugary, delicious peach cobbler that tastes great with a dollop of vanilla ice cream!
In a 2 quart casserole dish, or an 8x8 baking pan, add baking mix, cinnamon and nutmeg. Mix well.

Add milk and mix. Stir in butter.

Add peaches and sugar together in a  bowl and mix well to evenly coat.

Spoon peaches on top of the baking mix in the casserole dish or baking pan.

Bake for 45-50 minutes or until top is golden and crunchy.

Let stand to cool until warm. Serve warm topped with vanilla ice cream if desired.
Nutrition Facts
Bisquick Peach Cobbler
Amount Per Serving
Calories 418
* Percent Daily Values are based on a 2000 calorie diet.