Print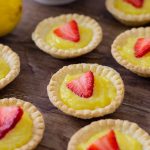 Mini Strawberry Lemon Tart Recipe
Using only 6 ingredients, this Mini Strawberry Lemon Tart Recipe is a fantastic dessert option for any occasion. From a formal holiday dinner to a casual summer picnic, this mix of tart lemon custard and fresh sweet strawberries is delicious! And, made as mini tarts, they are easy to serve and share!
In a medium-sized sauce pan, mix together eggs, sugar and butter over medium high heat. Stir until all ingredients are melted and are well-incorporated with each other.

Add lemon juice and lemon rind. Stir.

Lower heat to medium and whisk the ingredients consistently, for about 6-7 minutes, until a thick custard forms.

Pour lemon custard into a bowl, covering it with plastic. Chill in the refrigerator for about 2 hours.

Bake frozen pie shells according to package's directions. Cool completely.

Once everything is chilled, fill up each pie shell with custard. Top off with a strawberry slice. Serve and enjoy!
You CAN make the filling beforehand. In fact, it needs to chill in the fridge for at least 2 hours, so you'll need to get a BIT of a headstart anyways. But I would not put the filling into the shells until just before serving. The can start to get soggy if they are out too long. 
Nutrition Facts
Mini Strawberry Lemon Tart Recipe
Amount Per Serving
Calories 200
* Percent Daily Values are based on a 2000 calorie diet.