Print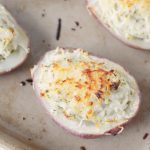 Twice Baked Red Potatoes
These mini Twice Baked Red Potatoes can be perfect as an appetizer or a fun side dish. Creamy and soft in the middle, they are sure to be a crowd pleaser!
Wash and scrub potatoes. Poke holes in the potato with a fork. Place on a microwave safe plate or dish and microwave for 10 minutes, flipping halfway through until potatoes are tender. Let set to cool.

Preheat oven to 35Cut potatoes in half and scoop out the inside, leaving 1/4″ around the edge. Place shells on a baking sheet, cut side up. Place potato in a mixing bowl. Mash well with a fork.

Add butter, sour cream, and seasoning to potato mixture and mix well. Spoon a dollop into each potato shell. Top with cheese.

Bake for 25-30 minutes or until heated through. Broil for 1-2 minutes to brown cheese.
Nutrition Facts
Twice Baked Red Potatoes
Amount Per Serving
Calories 172
* Percent Daily Values are based on a 2000 calorie diet.