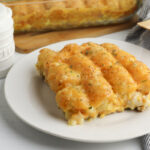 Print
Tater Tot Breakfast Casserole
Wake up to a slice of bliss with this delicious Tater Tot Breakfast Casserole! We make ours with Sausage, Eggs, Tater Tots and TONS of Cheese! But there great thing about this recipe is that you can add, subtract and tweak ingredients to your heart's content! Read below for the recipe and some yummy ideas to make it your own!
Preheat the oven to 350 degrees and grease a 9x13 baking dish with nonstick cooking spray.

Brown the sausage in a large skillet with the onion and pepper. When the sausage is cooked, spread the mixture in the bottom of the prepared baking dish.

Sprinkle one cup of cheese over the top of the sausage layer.

Top the cheese with a single layer of tater tots.

Combine the eggs, milk, and half the salt and pepper in a bowl. Whisk until smooth and pour over the top of the tater tots. Sprinkle the remaining salt and pepper over the top of the tots.

Bake in the preheated oven for 30 minutes, then remove from the oven and top with remaining cheese. Return to the oven to bake for 10 minutes, until the cheese is melted.