Print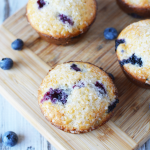 Easy Banana Blueberry Muffin Recipe
Ripe bananas and fresh blueberries make the perfect combination in this fresh, light muffin.
Preheat oven to 400 and grease a 12 cup muffin pan. Set aside.

In a small bowl, combine flour and baking soda and mix well. Set aside.

In a larger mixing bowl, combine mashed banana, milk, oil and sugar and mix well. Stir in dry flour mixture just until combined. Fold in blueberries.

Use a 3 tablespoon portion scoop to divide batter equally in 12 muffin cups. Sprinkle tops with sparkling sugar if desired. Bake for 15-18 minutes or until toothpick inserted in the center comes out clean. Let cool for 10 minutes before removing from pan and cooling completely before serving.