These Bloody Mary Deviled Eggs just may be the best eggs you've ever eaten! Now you can merge that classic breakfast cocktail with the popular hors d'oeuvres recipe of deviled eggs to create an unforgettable dish! Garnished with gherkins and celery, these deviled eggs look as great as they taste!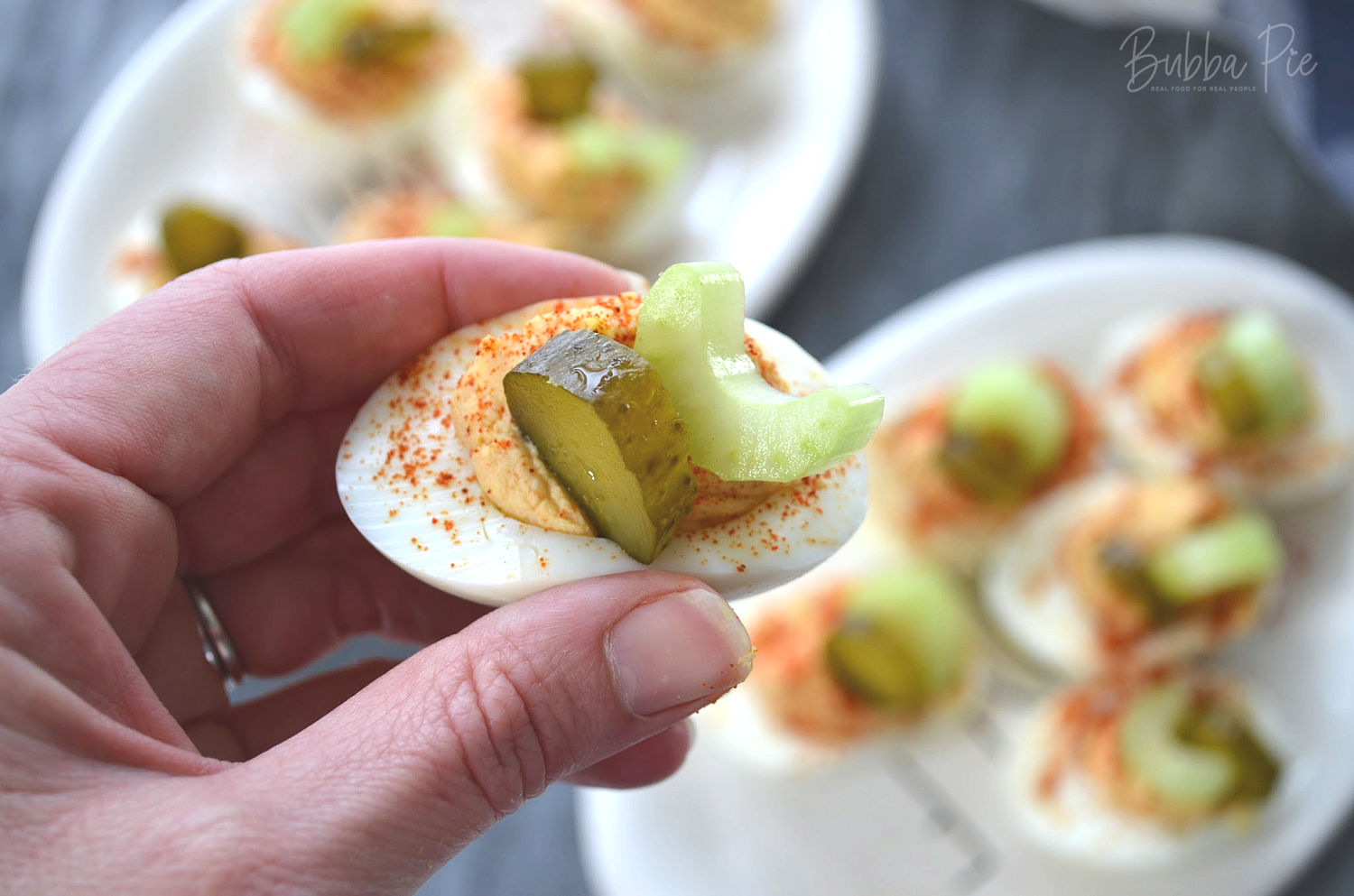 I've been making Deviled Eggs for just about all of my life. My grandma has passed down her own recipe through the generations, and I know it is a tried and true dish that I can bring to just about any get-together.
But lately, I've discovered that there are so many cool twists you can put on the classic deviled egg recipe. For instance I added some Cajun flare and tried out these Spicy Deviled Eggs. They were awesome! So, I thought it would be fun to try out another deviled egg recipe that was a little bit outside the box. That is where this Bloody Mary Deviled Eggs idea came from.
What Ingredients Will I Need For Bloody Mary Hard Boiled Eggs?
The ingredients that you will need for this recipe are pretty easy. You CAN substitute the Mayonnaise with Miracle Whip, but it WILL change the flavor slightly. If you are contemplating doing this, then I assume you know the differences in the taste between these two products.
The Gherkins and the Celery are really important for the garnish. Not only do they make the Bloody Mary Deviled Eggs look so delicious, they add are really great crunchy texture that goes great with that soft feeling of the hard boiled egg. So don't skip out on those!
Eggs-Hard Boiled
Mayonnaise
Tomato paste
Horseradish
Pickle juice
Hot sauce
Cajun seasoning
Salt and Black Pepper – if desired to taste.
Gherkins for garnish
Celery slices for garnish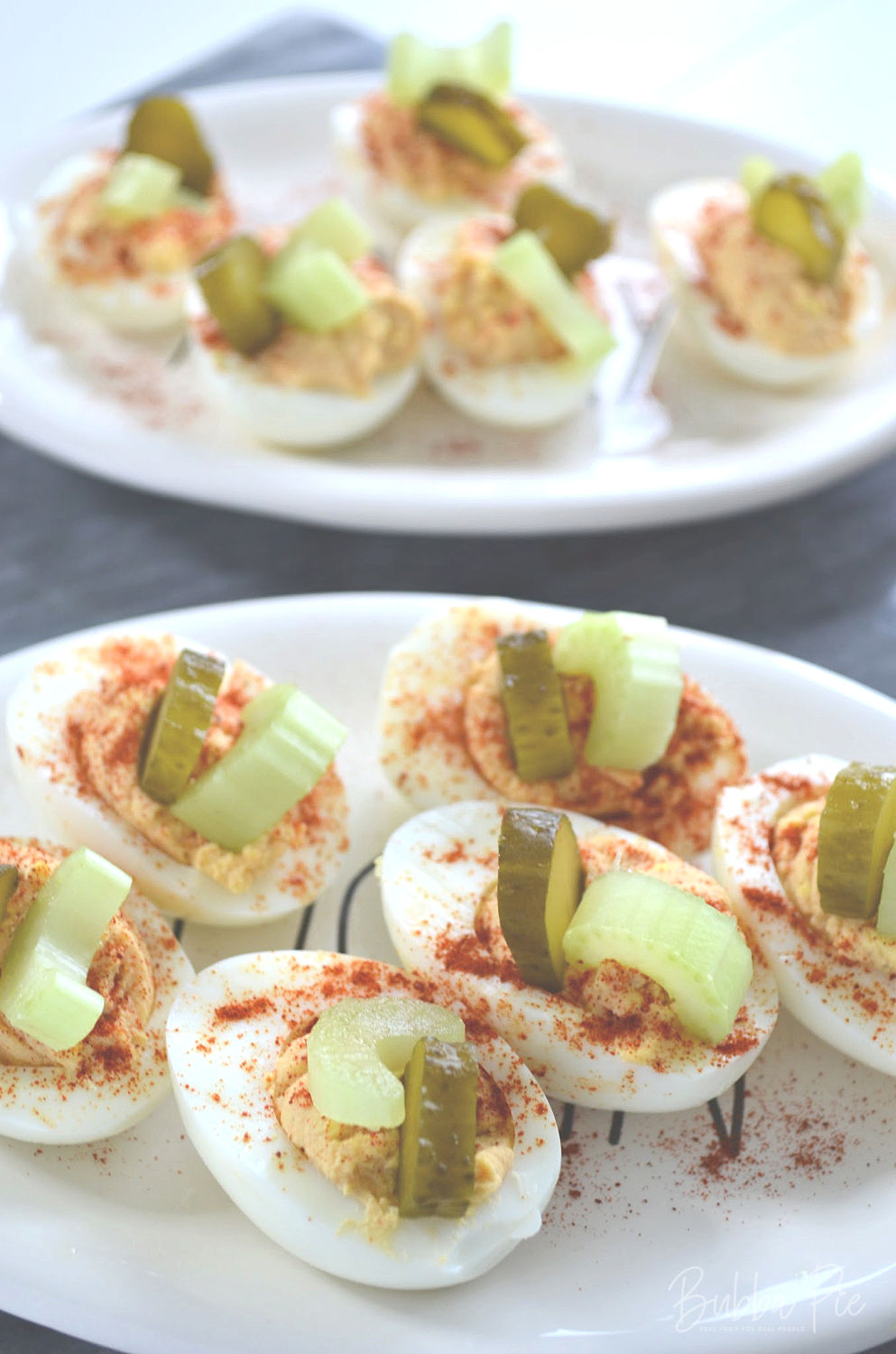 What is the best way to make Hard Boiled Eggs?
The Instant Pot is my preferred method of cooking Hard Boiled Eggs these days. I know that just about everyone has their "secret hack" for the best way to hard boil eggs. But, ever since I got an Instant Pot about 3 years ago, I'm a true believer in it! Here is a super simple process for making your eggs hard boiled in a pressure cooker. No more boiling water in a large pot over the stove! They always come out perfectly cooked! Just put them in an ice bath of cold water for a couple minutes and they are soooo easy to peel!
Can You Make This Recipe Keto and Whole30 Friendly?
Yep! With some careful checking of the labels, all of these ingredients should be able to coexist with a Keto or Whole30 diet. You'll just want to make sure there isn't any sugar (or definitely high fructose corn syrup) added to some of these ingredients like the Mayo, Tomato Paste and Horseradish.
Can I Make Bloody Mary Hard Boiled Eggs Ahead Of Time?
Certainly! There should be no problem making the egg yolk mixture up to a couple days ahead of time and keeping it in your fridge. I would NOT combing the yolk mixture and the egg white shells together until shortly before you will be serving them though.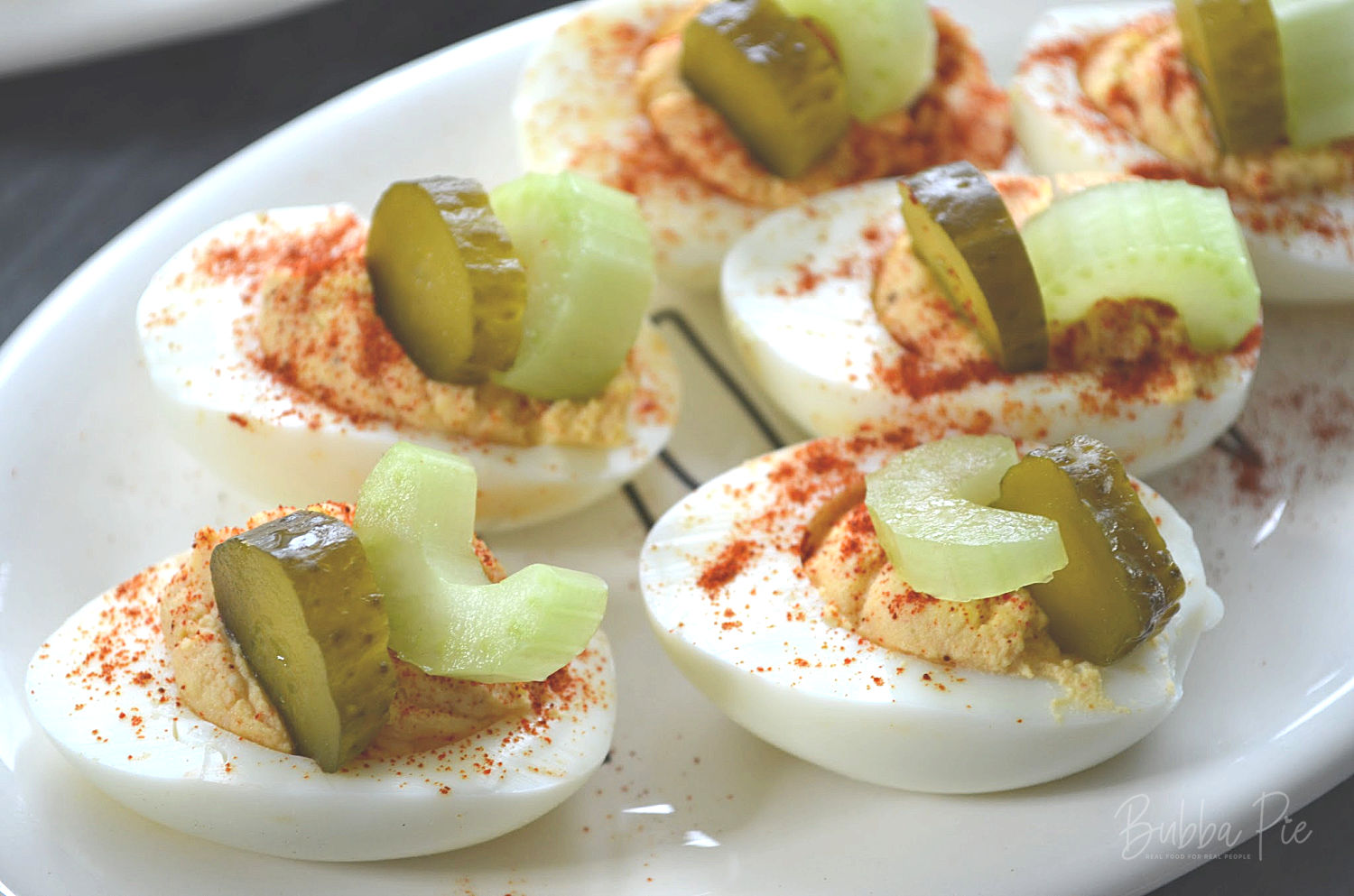 Notes, Tips and Variations
GET THE RIGHT SPOON – To avoid making a mess when assembling your Deviled Eggs, make sure you have a spoon that isn't too big.
GARNISH – Along with the Gherkins and Celery, you could also put fresh celery leaves on top for a garnish for some added flair.
This recipe is perfect for a Brunch! Or, I could definitely see bringing these to my family's Easter lunch this year! I've got a ton of other fun appetizer recipes I've been wanting to share with my friends and family, like this Ham Salad Dip or these Bacon Wrapped Brussels Sprouts. So many recipes and so little time!
Give this fun version of a deviled eggs recipe a try and let me know how it turns out in the comments!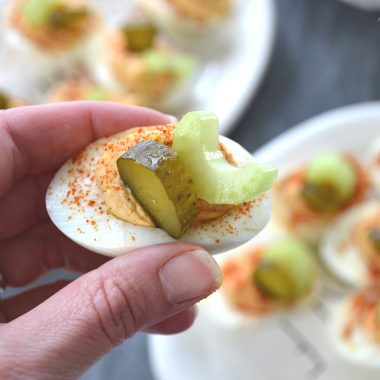 Rate this Recipe
Bloody Mary Deviled Eggs
These Bloody Mary Deviled Eggs just may be the best eggs you've ever eaten! Now you can merge that classic breakfast cocktail with the popular hors d'oeuvres recipe of deviled eggs to create an unforgettable dish!
Ingredients
6

Large Eggs

2

tablespoons.

mayonnaise

½

tablespoon

tomato paste

½

tablespoon

horseradish

2

tablespoons

pickle juice

1

tsp.

hot sauce

1

tbsp.

Cajun seasoning

Sliced gherkins for garnish

Celery slices

for garnish
Instructions
Cut hard boiled eggs in half lengthwise and remove the yolks.

Place all yolks in a small mixing bowl and smash with the back of a fork.

Add mayo, tomato paste, horseradish, pickle juice, hot sauce and Cajun seasoning and mix well.

Place a sandwich baggie inside a large drinking cup (or use a piping bag) and fill it with the egg mixture.

Snip off the corner of the bag and pipe filling into eggs.

Stick a celery slice and pickle slice in the filling to garnish.

Enjoy!
Nutrition
Love this recipe?
Follow @bubbapie for even more delicious recipes!!